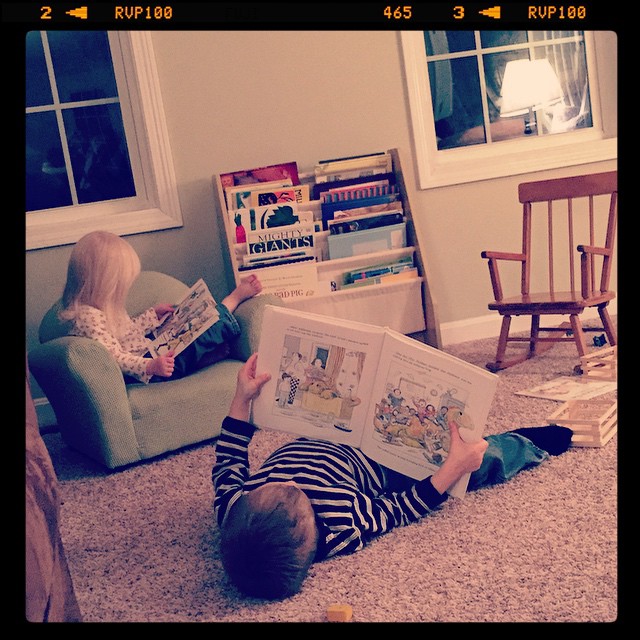 As a writer, I know the importance of beginnings.
Everything hangs on the first few pages of your novel.  If readers don't enjoy those, they probably won't move on.  There are lots of books in the world, so unless someone else told them it was a good story, why should they spend time on a book that confused them, bored them, or offended them right off the bat?
You have to foreshadow everything right.  You have to lay the foundation for the story and its themes, introduce your main characters and setting (in an interesting way!), and put your plot in motion.
Beginnings are HARD!  I can get so fixated on how my book starts that I don't move forward, perpetually rewriting and revising my opening scene.
I tend to carry this attitude over to my mothering.
These little years are all-important.  I'm forming human beings!  It's my job (I think to myself) to make sure they don't grow up malformed, like a tree that was bent into an awkward shape while it was a sapling, and keeps growing crookedly.  It's my responsibility (so I fear) to dot every "i," and cross every "t," so they have the best possible, perfect, ideal foundation for life.  Sometimes I feel like someone is standing over me, putting negative tally marks for every time I do something that is less than ideal for my children's foundational years.
Oop, too much TV today. Bad mom.  She lost her temper again.  Bad mom.  What, no veggie with dinner today?  Bad mom.
Some people brush off worries about the little years with thoughts like, "Eh, they're little.  They won't remember this stuff anyway."
But! But! I splutter inside.  They might not remember, but they'll be irrevocably shaped!
They are shaped by my words, attitudes, and fears.  They are shaped when they see me crying over a poop mess, and when I yell about spilled milk on the carpet.
It can't be done again.  I can't rewind time, erase my progress, and start over with a stronger opening – my kids' life, 2.0.  Their childhood thus far is set in stone.  And that's a scary thought.
In the world of fiction, there is a writing rule called "Chekov's gun."  It states that if there's a rifle hanging over the fireplace in the first scene, it needs to go off by the end of the novel.  There should be no loose ends, no details that are not relevant, because all details tie into the plot.
Sometimes I wonder what kind of guns I'm hanging here, over my children's heads.
(Is that…is that a nuclear missile???)
What part do I play in this opening scene of their lives?  Am I a loving mom?  A sweet mom?  A mom who languishes on a sickbed and weakly entreats her child to "have courage and be kind?"
A lot of the time I worry that I'm more like the wicked stepmother.
But I tell myself these things:
God is the ultimate Author of their stories, not me, and God's stories always have perfect endings, no matter how messy their beginnings.
However I shape my children, His hands are around them (and me), far more powerful and purposeful than my clumsy little fists.
God's stories are simultaneously first drafts and finished products, full of crazy, unexpected twists and concluded with every plot thread in place.  All His guns go off, and they all go off at the right moment – even if the characters were only fooling around and fired them by accident and hit somebody in the eye.
And my children are shaped by far more than my flaws!
They are shaped by our Bible lessons, even when I think they're not listening because they're busy giggling and smearing cinnamon toast on their faces.
They are shaped when my hubby kisses me in front of the kitchen sink.
They are shaped when I play Christian music on Pandora.
They are shaped by my hugs and kisses, that cup of water I bring them at 2 A.M., those many hours reading Beatrix Potter.
It just isn't as simple as, "You're either doing everything perfectly or YOU ARE FAILING AT LIFE."
We are all a crashing, colliding, crazy, messy crowd, mixing our good acts with bad attitudes and our worst mistakes with our best intentions.  We are saved in Christ, yet struggling sinners.  We aren't perfect, but we rest in Perfection.  We are flawed and fallen, and yet He does His good works through us, and appoints us as His representatives in the world and His members in the church.
He didn't just put me on the earth to make my children grow up well.  He also put them here to make ME grow up well.
So I can't be paralyzed by these first pages.  I have to keep moving forward, working out my part in my own story and in theirs.  For praise be to God! – I pen imperfect novels, though I may write the beginnings a million times, but He never needs revisions, and He is creating a masterpiece.