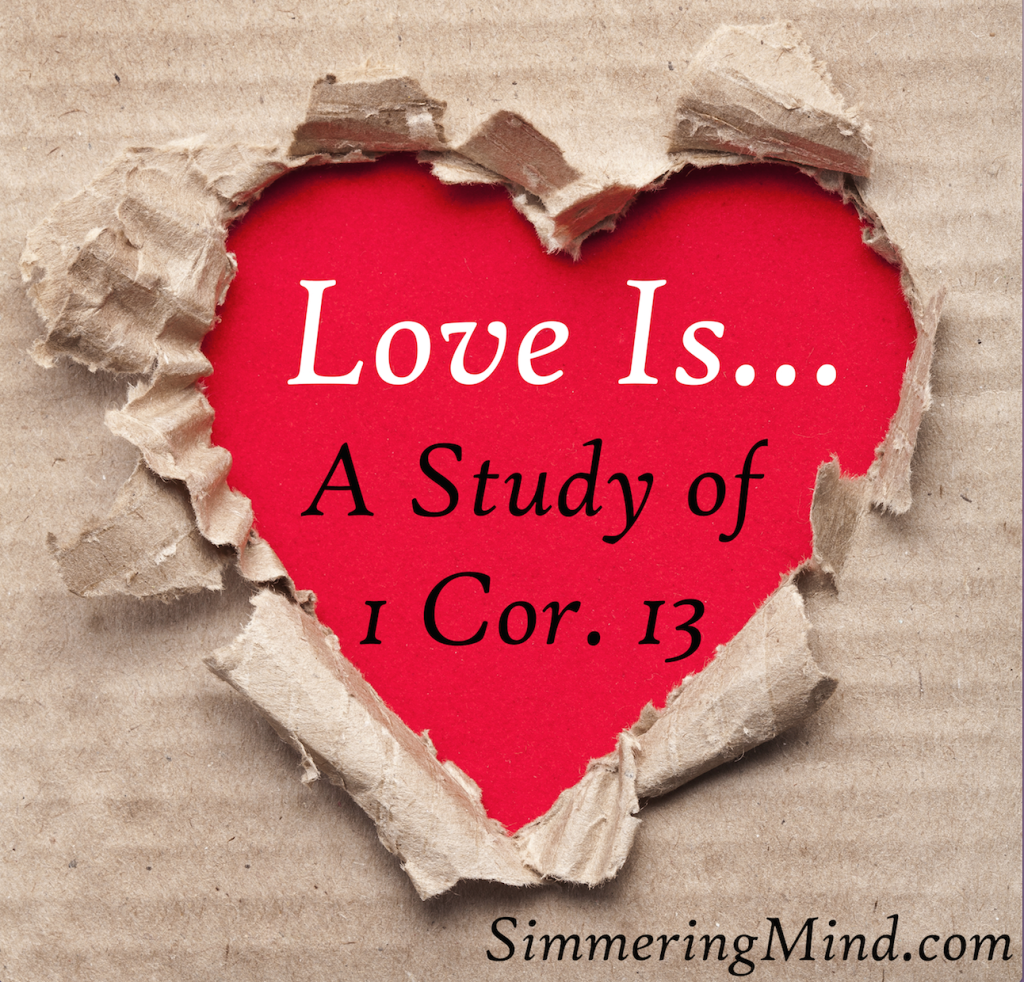 At the beginning of this Valentine's month, I decided that I needed more love in my life.
By which I mean – my lack of love was painfully evident to me.  It was evident in how I spoke, thought, and acted every day, particularly toward my little children.
If there's anyone in the world you think you love perfectly, it's your babies, right??  But the Bible is clear that "love" is an action word…not a feeling.  As we've all heard,
Love is patient and kind…
Patient and kind?  So many days, I am anything but patient and kind!!  By the very definition of that passage, right from the get-go, I "have not love."  This was a convicting and depressing realization, and for awhile I was bitterly disappointed in myself for not living up to expectations.
Then I remembered that this is what Christ came for – to die for me, to take my sins away, and He sent His Spirit to dwell in my heart to conform me to His image!  I am not a hopeless case; I'm a work in progress like every other believer throughout time.  I can and will learn and grow, in His strength.
I yearned to have a heart of love more like my Savior's.
It was time to really study a well-known Scripture passage – 1 Corinthians 13.  Most Christians know it.  Even unbelievers who have never cracked open a Bible have probably heard part of it at weddings!  It's so familiar that it's easy to gloss over it as we read, rather than truly digesting it and applying it to our lives.  I decided to delve into it this month: to study it deeply, repeatedly, and carefully, and memorize it as best I could so that I could carry it with me always.
Long story short, this has been a beautiful and mind-blowing experience.
The text has opened up to me in ways it never did before, I feel like I understand it far better than I ever have, and best of all, God has used this study to reveal to me huge swaths of "weeds" in my heart…overgrowth of sin choking out love.  Now that I can see the weeds, I can uproot them, and water and tend that beautiful, first fruit of the Spirit He means for His children to grow – love.
I would like to share my musings and wrestle them into written form, so I plan to post a sporadic series here about my findings.  I hope my thoughts will be edifying to my readers here, as well. 🙂
Here is the entire passage.  Lord willing, I hope to come back next week and discuss the first few verses to start the series.
I CORINTHIANS 13

If I speak in the tongues of men and of angels, but have not love, I am a noisy gong or a clanging cymbal.  And if I have prophetic powers, and understand all mysteries and all knowledge, and if I have all faith, so as to remove mountains, but have not love, I am nothing.  If I give away all that I have, and if I deliver up my body to be burned, but have not love, I gain nothing.

Love is patient and kind; love does not envy or boast; it is not arrogant or rude.  It does not insist on its own way; it is not irritable or resentful; it does not rejoice at wrongdoing, but rejoices with the truth.  Love bears all things, believes all things, hopes all things, endures all things.

Love never ends.  As for prophecies, they will pass away; as for tongues, they will cease; as for knowledge, it will pass away.  For we know in part and we prophesy in part, but when the perfect comes, the partial will pass away.  When I was a child, I spoke like a child, I thought like a child, I reasoned like a child.  When I became a man, I gave up childish ways.  For now we see in a mirror dimly, but then face to face.  Now I know in part; then I shall know fully, even as I have been fully known.

So now faith, hope, and love abide, these three; but the greatest of these is love.
*
Have you ever intensively studied a Scripture passage for a specific purpose?  What passage was it, and how did it affect your life?