Realm Makers is less than 50 days away, peeps.
SQUEE!!!!
(That GIF expresses both sides of my brain here. On the one hand, ALL THE EXCITE! And on the other….oh, I have so much to do before I go!!)
This will be my third year going to Realm Makers, and since it's on my mind today, I thought I'd write up some advice and thoughts for those attending for the first time – or going to their first conference anywhere – or going any time, no matter how many conferences you've been to!
A lot of people have written advice posts on what to pack, or what to bring to Realm Makers specifically, how to prep if you're going to pitch to an agent or publisher, and so forth. Those posts are immensely helpful, and I recommend you check them out!
But this isn't going to be one of those posts.
I'm here to speak to your writer heart from mine, about how to prepare internally for going out among a huge throng of fellow Christian writers, maybe for the first time ever.
First of all…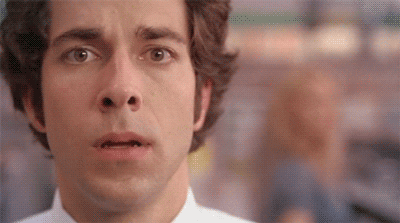 1. It's totally normal to be nervous.
Don't be embarrassed by it. Or surprised. Many of us writers are shy little introverted butterflies, and the thought of going to a conference full of strangers – and, eeeek, talking about our writing! – makes us shudder. Or maybe you have something else to be nervous about, like the travel.
This is NORMAL.
Feel it. Accept it. Embrace it. Don't be scared by your own fear! Listen to music that gives you courage, read Scripture passages about bravery, and combat each lie with the truth of who you are in Christ and why you have nothing to fear.
(I made a playlist to listen to on the plane the first year I went, to fill my heart with truth and courage…if you'd like to listen to it, I've put it on Spotify, here!)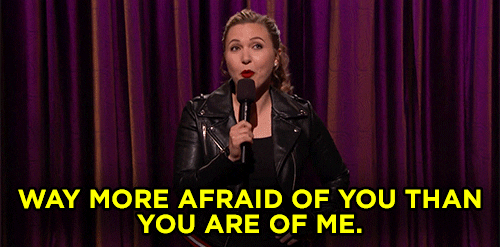 2. Look outside yourself.
Think about this: you are going to go to this conference and be surrounded by other people who are just as terrified as you are. Even some people going back for the second or third time have new things to be nervous about! We can always use a smile and an encouraging word, no matter how experienced we are. All of us are only human.
Instead of allowing your nerves to swallow you whole, look outside yourself. Smile. Say hello. Sit next to someone you haven't met before and ask them what they're writing. Show the love of Christ to someone. ALL of us can do this. You're never too new or too shy to bless others!
Focus on making others feel seen and welcome, and you'll totally forget to worry about how people are perceiving you. 🙂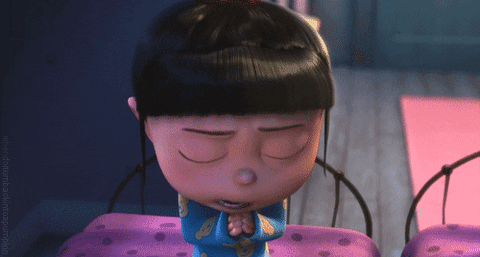 3. Start praying NOW.
Pray for the teachers, for the fellowship between authors, for Christ to be glorified in you and by the conference as a whole.
We are WRITERS. And not only that, we are CHRISTIANS. We have great power. Satan will attack us wherever we are weak, whenever he can, because what is more terrifying to him than a room full of Holy-Spirit-filled writers and their stories that are written to the glory of the King of kings?
But we aren't powerful because of us. We're powerful because of the God we serve. Let's soak this conference in fervent prayer before we even arrive! And remember that when we come together, we represent Christ and His bride, the Church – let's pray for the power to live that out in everything we say and do.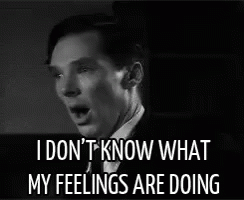 4. Expect to have a breakdown.
Confession: at my first Realm Makers, I spent one late afternoon in my room, stuffing my face into my pillow so my roomies wouldn't hear me sobbing. I'd just walked away from a (basically lifelong) WIP a month before, which I thought I would be able to bring and pitch to a publisher, and I didn't know who I was or where I was going anymore.
That Realm Makers was the best thing that could have happened to me at that point. It changed my life. It was incredible! But all the teaching, the experience, and the excitement forced me to come face-to-face with a lot of griefs and yearnings. Cue breakdown!
….Confession #2: at my second Realm Makers, I cried all through my first plane flight home, because I still hadn't been able to return to that WIP, it was all I wanted to write, and I was still processing feelings. 😛 (It's my current WIP now, so, God is good. 😀 )
Breakdowns happen. Even to those of us who aren't newbies!
Especially if you're the kind of person who feels a lot of feeeeeelings…straight up plan for this when you go to a conference. Expect it. Don't let it catch you off guard.
There will almost certainly be a point (before, during, or after, or even all three) where you feel discouraged, lonely, exhausted, like an abject failure, or even spiritually attacked. There is a lot to process at a conference, and you don't get life-changing without at least a little freak-outery! You'll be introduced to so many new thoughts; you'll feel the weight of missed opportunities; you'll wonder about your career and where it's headed; maybe a pitch appointment will go poorly…there are so many things to freak out about.
BUT IT WILL BE OKAY. Take your panic or your sadness straight to God, and thank Him for even the hard and painful parts of such a big experience. Pray for wisdom to move forward with your writing to His glory.
You will get through this, and it will not destroy your conference experience – not if you don't let it!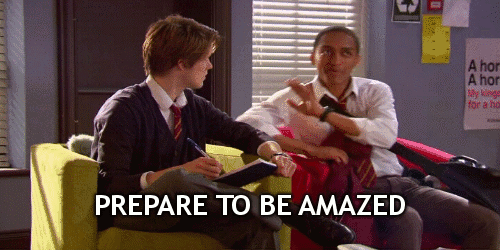 5. Expect God to bless you in ways you didn't even anticipate.
People will be even nicer than you expect. You'll make new friends. You'll find great new books. You'll hear something in a seminar that will forever free you and fuel you for the rest of your writing life. If you are going to Realm Makers, you will be surrounded by blessings you never even imagined or expected. These people are a tribe. And they are wonderful.
So go forward with confidence and eagerness!
It's going to be AMAZING.
*
Have you been to Realm Makers or another writing conference before? What advice would you give for preparing yourself mentally and spiritually for a conference?