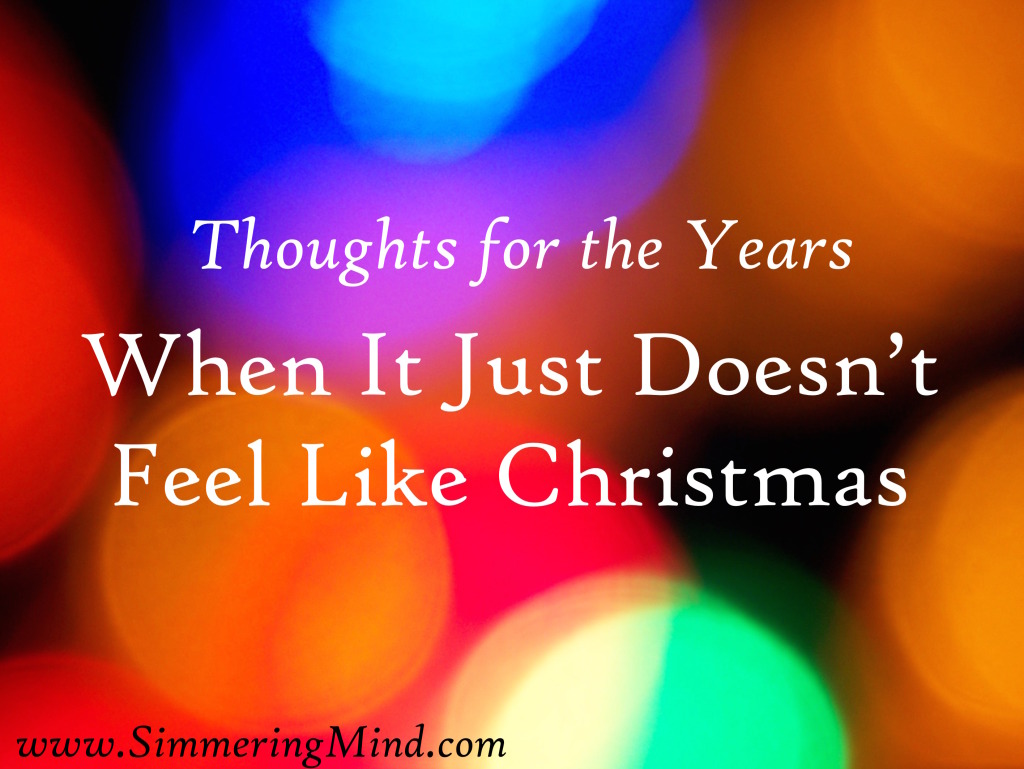 One of the hard things about married life has been adjusting to the fact that holiday traditions – especially Christmas ones – will never be the same again.  I will never get to go back to the Christmas Days I enjoyed growing up.
I don't get cozy new jammies and a book from my parents on Christmas Eve anymore.
I don't get to sit with my siblings at the top of the stairs, antsy and eager, and then rush down to see our "big gifts" sitting unwrapped in the middle of the room.
For several early years of our marriage I didn't get a stocking to empty.
The tattered quilt of tradition
I've spent years clinging to "the way it used to be," desperately tugging together the disparate bits of joy I remember from my youth and trying to piece them into a familiar kind of Christmas, like a ragtag patchwork quilt.
But no matter how I finagle it, of course it is never quite the same.
I had far too many items on the list of "It just doesn't feel like Christmas unless…!"
– unless we have that delicious chocolate raspberry trifle
– unless we arrive at my family's early enough to be there when my siblings come downstairs
– unless I have a stocking to open
– unless we do an advent calendar
– unless we watch these specific Christmas movies during December
– unless, unless, unless
And somehow I had to fit these "feel like Christmas musts" into a life that now includes not one family but two…a life where we switch back and forth between my husband's family and mine for Christmas Day…a life where we celebrate with the other family on Christmas Eve in "off years" (opening presents before Christmas!  Horrors!)…a life with very small children (currently battling pink eye!).
This is the year that I finally let it go.
I stopped asking myself, "How can I make this Christmas feel as much like my childhood memories as possible?" and instead I'm wondering, "What kind of Christmas memories do I want my children to have?" and planning my own traditions accordingly.  I'm not trying to replicate my childhood – wonderful though it was – but taking the life we have and making a joyous Christmas of it.  It includes many familiar traditions, but I mean to create memories for my kids, not only tickle my own sense of nostalgia.
Maybe Christmas, perhaps, means a little bit more
As much as we might say, "Don't forget Jesus is the reason for the season!" it's easy to get caught up in nostalgic family traditions and value those above what's truly important: the reality that Christ has come into the world – for the lost, for the lonely, for the hurting.  He comes to mend broken hearts, to bind up the wounded, to give His life for the repentant Pharisee and the repentant reprobate alike.
In this world, nothing is certain.  Traditions have to change.  People move away.  Beloved family members die.  There are empty chairs around many Christmas tables as children move out and start their own families or new jobs across the country.  In some homes, mothers hold together Christmas traditions for their children, all while knowing that inside their belly, the tiny bundle of joy that was going to grace their coming New Year no longer has a beating heart.  There are many who could listen to the Whos' refrain in the old, animated Grinch movie – "Christmas Day is in our grasp as long as we have hands to clasp!" – and can only think of the hands they do not have any more to hold.
My own "complaints" are nothing compared to those who are truly feeling the loss of "Christmas Past" or even any "Christmas Present."  For as many as celebrate the holidays with perfect peace, there are equally as many or more hearts crying out, "How long, Lord?  How long?"
For when it doesn't feel like Christmas
Some days and some years, it just won't "feel like Christmas".  And that's okay.  We can't hold on to Christmas traditions and warm holiday fuzzies eternally, but we can hold on to the true and greatest gift of God.  There is a King Who has come, Who is here, and Who is coming again, and He is preparing a place for us.
This year I am determined to be done thinking, "Ugh, it really doesn't feel like Christmas," when things don't go my preferred way, and instead proclaim with joy, in good times and bad, "It's Christmas!!  Let's celebrate!"
There are times the glowing lights, traditions, sweets, and decorations seem tacky, unfamiliar, or shallow to us.  But there is never a time we cannot claim the promise of God and sing with grateful hearts, "Rejoice!  Rejoice!  Emmanuel has come to thee, O Israel!"
He is here to bring us a sure, unbroken eternity of joy.
O come, let us adore Him!
And the angel said to them, "Fear not, for behold, I bring you good news of great joy that will be for all the people.  For unto you is born this day in the city of David a Savior, who is Christ the Lord.  And this will be a sign for you: you will find a baby wrapped in swaddling cloths and lying in a manger."  And suddenly there was with the angel a multitude of the heavenly host praising God and saying, "Glory to God in the highest, and on earth peace among those with whom he is pleased!" – Luke 2:10-14
M

e

r

r

y

C

h

r

i

s

t

m

a

s

,

d

e

a

r

r

e

a

d

e

r

s

!