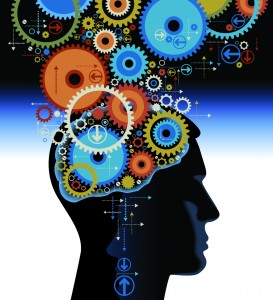 My worst nightmares are boring, repetitive dreams that seem to last forever. In them, I'm stuck on a thought and cannot escape it no matter how hard I try. Often I'm trying to analyze a problem or solve a riddle, and it's impossible, but my brain is trapped studying the impossible thing over and over again.
Sometimes I even wake up, try to shake it off, and go back to sleep – only to find myself muddling through the same conundrum. (Anyone else have this kind of nightmare? It's awful!) I sometimes wonder if it's a manifestation of subconscious frustration at something in my "real life."
Well, last night – between shushing and nursing a restless, teething baby all night – I had one of those dreams. In it, I was endlessly barraged by letter patterns. I could. not. stop. thinking about these infuriating patterns!
NF. ESP. SFJ. NT. SP. INF. EF. NTP. ISF. NTJ. ES.
It felt like I spent the entire night trying to drive away the swarming letters! Aaaargh.
The source of these letter patterns? Well, if you're familiar with it, you probably already guessed:
Myers-Briggs Typology.
What is this complicated madness??
If you've never heard of MBTI, the best way to understand the theory in a nutshell is this – we all fall into one of sixteen different "types," and the four letters in that type's name describe the way that type interacts with the world and processes information.
At first I disliked the idea. Only sixteen types of people? No way! Every human being is unique!
But that's a misunderstanding of the theory, because your four letters don't describe you so much as they describe your main preferences in these four categories:
1. Your energy source (Introversion or Extroversion).
Do other people energize you (Extrovert)? Or does social activity drain you and require you to recharge with alone time (Introvert)? Extroversion/introversion has nothing to do with whether you are shy or like to be with people! It has to do with whether interacting with those people takes energy from you, or feeds energy to you. Extroverts also tend to be more action-oriented while introverts are more thought-oriented.
It's important to note that all of these differences are between extremes on a wide spectrum, not a strict either/or. Some people are very balanced between the two "sides" on one or more categories. EDIT: a commenter certified in MBTI pointed out to me that it is a strict either/or in the sense that you will fall on one side or the other; you simply may be unsure where you fall. However, people do use both sides in any of these categories – they merely have a preference for which side they use most often, and some people's preferences are not strong ones.

Personally, I fall pretty deep on the introvert side. Parenting can be tough, with three loud, little people needing my attention all day long. Sometimes I have to lock myself in the bathroom for a few minutes just to regain my sanity! 😉 Meanwhile, my extremely extroverted friend, RJ Conte, occasionally wishes her daughters weren't napping because she gets lonely and antsy without them! (I can't even imagine…)
2. How you take in information (Sensing or iNtuition).
Do you tend to focus on the basic information you take in with your senses (Sensing), or do you like to interpret and add meaning (using your iNtuition)? Sensors tend to be grounded in the past and present, very detail-oriented people, while iNtuitives are more concentrated on the future, on the big picture, and on possibilities. RJ (who also taught me almost everything I know about MBTI) points out to me that sometimes intuition can be confused with introversion, because even extroverted iNtuitives can be very lost in their own thoughts.
I have a moderate iNtuitive preference. I'm chronically absent-minded, so the here and now is not really my friend (hahaha). My husband is almost dead in the middle, as a Sensor who also has very well-developed iNtuition, but I've noticed that when it comes to information, he wants all the details. This has caused friction in the past when I had to relay important information to him…and all I gave him was the bare basics! I'd latched on to what was important and relevant to me in forming the "big picture," and I mentally dismissed all the details now that I had the big picture in view. In the future it behooves me to remember that even if the details seem unimportant to me in forming the big picture, my husband wants everything so he can process the information for himself! I never would have put my finger on this crucial difference between us (or recognized how to fix it) if it wasn't for my awareness of MBTI.
3. How you make decisions (Thinking or Feeling).
When making a decision, do you look first at logic and consistency (Thinking) or do you first look at the people involved and any special circumstances (Feeling)? People commonly misunderstand this category, thinking it's the difference between using your head and using your heart, or being logical vs. emotional. It's more about where you place your logic and emotions…do you focus on the rule or do you see all the possible exceptions to the rule? Also, are you focused on objective facts in a situation (Thinker), or on the people involved (Feeler)?
My preference is Feeling, but I have a very developed Thinking side, so much so that I use both functions almost equally. However, I know am a Feeler because in any situation my first concern is the effect my words and actions will have on the people around me, and what kind of response I might provoke. This page has a really good summary of Thinking versus Feeling.
4. Your sense of structure (Judging or Perceiving).
This is probably one of the most stereotyped categories of the four, and I'm guilty of misusing these "labels" sometimes, too. Judging doesn't meant you're judgmental, and Perceiver doesn't meant you're necessarily perceptive. This category describes whether you like to have everything set and decided (Judging) or whether you prefer to remain open to new information and options (Perceiving – the word refers to taking in information "as you go"). The J/P category also has more to do with your outward appearance to others than how you are internally, I hear.
I admit this is the hardest part of MBTI for me to describe and understand. I'm still working this one out! And there are a lot of stereotypes that muddy the water here (like, "Judgers are bossy" and "Perceivers are wishy-washy"…again, these things are very true of some, but not of all). But as someone with a moderate Judging preference myself, I know that I prefer to be organized, have a plan, and have my mind made up about things. If you have a Perceiving preference, you may tend to be more spontaneous, wing it, and keep your options open when you can.
Looking at all those categories above, you should be able to piece together the four letters of your type!
I am an Introverted iNtuitive Feeling Judger – an INFJ. (Supposedly we're a rarity. We love it that way. But there are swarms of us in the writing world.) 😛
Stereotypes and "typism" (as RJ calls it) can abound within MBTI-loving circles. People sometimes form judgments against others merely over their "type", when in reality each person is different and one ENTJ can be very different from another ENTJ (or whichever type you have in mind). Some people are right-brained, some left-brained. Some are very balanced, others are not.
The trick is to remember that people don't fit into strict boxes of 16 clear-cut types, but rather each person is somewhere on the scale between Introvert and Extrovert, preferring Sensing or their iNtuition, Thinking or Feeling, and Judging or Perceiving.
If anything, learning about Myers-Briggs helps me see and appreciate the diversity of human personality more, not less!
My Love-Hate Relationship with MBTI
The more I think about MBTI, the more it invades my thoughts at all hours of the day! Lately I am constantly analyzing every person and personal interaction, running it through the "type system" in my brain. No wonder I'm having bad dreams about MBTI not leaving me alone! (RJ says it eventually becomes second-nature, when you're very familiar with it.)
But despite the annoyance, I love MBTI, because it makes so much sense. Understanding the many "types" helps me discern that some people simply tick differently than I do, on a very deep level. Furthermore, it helps me understand how they tick, and how they will tend to naturally communicate, and with that knowledge I can prevent a lot of misunderstandings and frustrations.
For example, do you perhaps have a friend with a not-so-great side? Say she's very blunt and brusque. If you know her well, you have probably learned to lovingly overlook that side of her, because, "That's just her personality." You learn to not take it personally, right? You start to recognize it as her natural way of speaking, not a sharpness toward you.
Being familiar with MBTI gives me the knowledge to give that same kind of general grace to everyone! It's a great asset in my quest to "do unto others," as Jesus commanded us to do.
Also, knowing my own "type" allows me to put a finger on some of my own behaviors and thought processes that might have been subconscious before. Knowing why I do some things the way I do often leads me to understand my sin issues better, and equips me to address them head-on.
MBTI is also a great thing to have in my toolbox as a writer, to understand my characters better. I don't form my characters based off MB types (some writers do), but after I've gotten to know my characters a bit it does help me to "type" them and learn about that type so I can flesh out their personality and depict them more accurately. (It's lazy writing – and boring – when all of our characters think and act the same way we do! But it's easy to forget that everyone experiences the world and processes things differently.) It helps me make each character unique, just like each human being in the real world.
Resources for Learning More about Myers-Briggs
I use this online quiz a lot to help me type characters – I just answer all the questions from their point of view. Then I take the results I get and compare them to the description of that type on this helpful website, which not only talks about the type but also how they relate to others, strengths and weaknesses, and so forth.

Online quizzes are not always accurate (neither are those "type charts" with movie/TV characters, by the way), so if you use a quiz, don't take the answer at face value. Do some independent research!
But be warned…research too much, and MBTI could start stalking your brain all day and haunting your dreams at night.
It will be totally worth it, though, I promise! 😀
*
Do you know your Myers-Briggs type? If so, what is it? If not, can you figure it out based on this article? (And if you're an INFJ, check out my newish INFJ Pinterest board! Chances are, we have some things in common.)