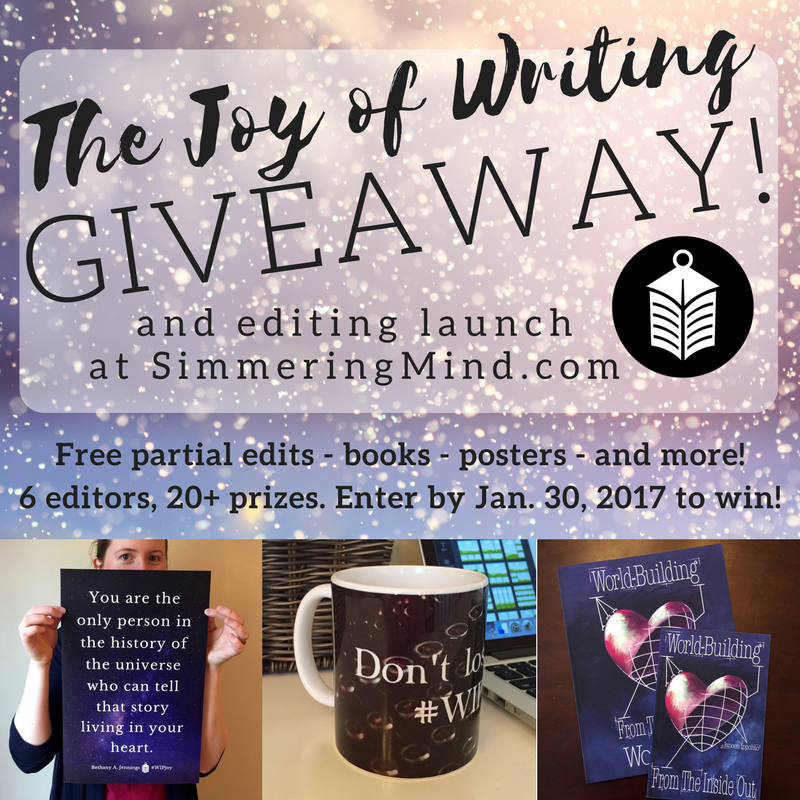 SURPRISE! It's a giveaway!!
A year ago, I created #WIPjoy as a way for authors to connect, support each other, and rediscover their passion for their WIPs.  Many of you have told me over the past year that #WIPjoy helped you plug into the author community and find enthusiasm again.  That makes me so happy!
Now it's a new year, and in 2017 I hope to begin helping my fellow authors in a new way – I'm excited to announce that I am now offering my services as a freelance editor! This is something that's been in development for a few months, and it's a thrill to finally, officially hang up my shingle. 🙂
To celebrate my new services – and a year of fun with you, awesome #WIPjoy-ers! – a group of wonderful editors and I have come together to hold a giveaway!  Some of us are newer to the field, some of us have years of experience, but ALL of us are excited to give away fun prizes and help you soar in your journey to publication.
Passion and inspiration are one side of the coin.  The other half is the exhaustive, often painful task of refining our passion projects until they are as cohesive, clean of error, and powerful as they can be. I hope #WIPjoy has helped you with the former – maybe one of us can help you with the latter!
Just like every author's voice is unique, so is every editor's style and work.  Learn a little about each of us and the prizes we're offering below, and then scroll down to the Rafflecopter giveaway at the bottom of the post!
Six Editors – Over Twenty Prizes!
I've been writing all my life – ever since I was old enough to pick up a pencil and spell. As an editor, I'm excited to work with authors at all levels, but especially young and new authors who are still finding their voices and dreaming of being published for the first time. I specialize in speculative fiction, and my flash fiction has been published in Havok Magazine and on the Splickety Lightning Blog.
When I'm not writing fiction in the dead of night, I'm chasing after my four adventurous kiddos, eating artistic sandwiches, and enjoying the writerly communities on Facebook and Twitter.
I'm giving away…
The Giveaway Grand Prize – a 20-page edit, #WIPjoy poster, and $10 Amazon gift card
Two 15 page edits that come with a 20% discount on an editing service of your choice, if you like my work
Two beautiful #WIPjoy posters (pictured above in the giveaway graphic)
The "Don't Lose Your #WIPjoy" mug (pictured above in the giveaway graphic)
Janeen Ippolito is a multi-published author in speculative fiction and nonfiction writing resources. She's also an experienced editor, book reviewer, and English teacher, and she's the Fearless Leader (president) of Uncommon Universes Press. She believes that writing (and editing) should be fun and that everyone can do awesome work–they just need a solid editor and coach in their corner.  As an editor and coach, her mission is help writers refine their unique stories in speculative fiction, from paranormal romance to hard science fiction. She's also passionate about bringing organization and a unique voice to nonfiction. Her background in communication and book sales has given her additional insight into both the creative and the marketing aspects of story telling.  More than a manuscript perusal, she examines how the writer's message connects with genre and marketing expectations, and creates an editing strategy for irresistible stories that make for happy readers. In her spare time, she enjoys sword-fighting, reading, learning random facts, and making brownie batter. Two of her goals are eating fried tarantulas and traveling to Antarctica.
Janeen is giving away…
Two coaching sessions (an hour or two half-hours per winner)
Two 10-page comprehensive manuscript reviews
A copy of both her "World-Building From the Inside Out" textbook and workbook
Sarah Delena White is passionate about helping writers realize their unique visions and bring quirky concepts and fantastic worlds to life. She specializes in speculative fiction and academic editing, and offers a range of services that will take your manuscript from a draft to a polished work. She is also a founding member of Uncommon Universes Press, where she serves as acquisitions editor. Her novel Halayda, an epic Celtic mythology mash-up, will release this spring. When she's not writing or editing, she can be found making jewelry, singing Irish ballads, and drinking lattes.
Sarah is giving away…
Two fifteen-page edits and a discount on her editing services

Mirtika holds a degree in English and has edited at two speculative fiction magazines. She's won several awards for her writing, including the ACFW Genesis in the Visionary category, and has published articles, poems, and short stories. She enjoys editing and writing blurbs. Her favorite genres for both reading and editing are fantasy, soft science fiction, horror, mystery, poetry, devotionals (Christian), suspense, and romance (especially those with a speculative or spiritual element).
Mirtika is giving away:
a full story blurb for your back cover, written by her (along with a revision of it based on your feedback)
your choice of a 3 chapter general critique or a 1 chapter comprehensive critique.
Whether she's wielding a fantasy writer's pen, a freelance editor's sword, or a social media wand, Ralene Burke always has her head in some dreamer's world. And her goal is to make it SHINE!  She has worked for a variety of groups, including Realm Makers, The Christian PEN, Kentucky Christian Writers Conference, and as an editor for a number of freelance clients.
Ralene is giving away…
Katie Morford is an author and freelance fiction content editor specializing in character-centric "soft" speculative fiction (steampunk, space opera, urban fantasy), as well as romantic suspense and some historical fiction. She lived overseas for nearly three years and has traveled to over 30 countries, giving her rich experience in world-building and cultural settings. Her co-authored romantic suspense novel, Kenan, released last May under her pen name, Karis Waters. Katie is also a founder and the managing content editor of indie publishing house Crosshair Press. Katie loves dancing with her fiance, Cadbury Royal Dark chocolate, and lives in a 100-year-old farmhouse in the middle of nowhere. 
Katie is giving away…
a 10 page partial edit
one of two half-hour manuscript consults
a critique of your back cover blurb
a 25% discount on her eight-week fiction writing mentorship course.
Enter the giveaway!
Any writer is welcome to enter, no matter where you are in your journey to publication, whether you already have an editor or not, and whether or not you've participated in #WIPjoy. 🙂
Enter anytime from now until January 30, 2017. May the odds be ever in your favor! 😉