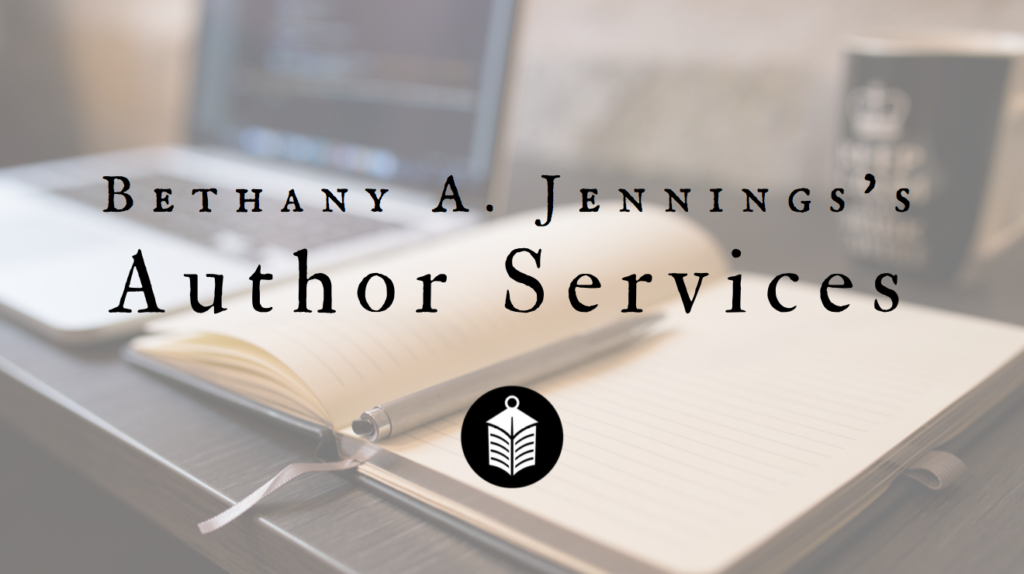 If you are a writer and serious about your craft, you will need an editor. But you also need someone to come alongside you in a way that helps you fly higher.  Your editor should be someone who believes in your work and the value of your voice, and gives you even more confidence in the story you are telling.
I am passionate about encouraging authors and bringing joy to the journey, especially for new writers or teen writers who are eager to grow in their skills. My goal is not only to spot your weaknesses and advise you on how to grow, but also to recognize your strengths so you can hone them and make your writing shine brighter.
I strive to be affordable, thorough, and encouraging. Hiring an editor shouldn't be intimidating!
"Bethany Jennings does the detailed work of editing–grammar and punctuation–well. But she also brings thoughtful observations about character emotions, sections that slow down the story, and potential expositions that can improve the story. She is easy to work with. I highly recommend her editing services." – John T.

"I put Bethany in charge of editing all of my four most recent books. As a very personal editor, she truly gets inside of your story and believes in it.  She is brilliant with keeping up with modern writing trends, and helps tweak your story to appeal to a wider group.  It is cleaner, snappier, and crisper, and you are educated and a better writer after she's done.  It's like getting writing classes and a worthy novel all in one!" – RJ C.
Please note – I am currently not taking manuscripts over 15,000 words in length due to time constraints. Thank you for understanding!
Changes to my official service descriptions are coming soon, so if you have any questions about what I offer and whether I can take on your project, please feel free to contact me using the form at the bottom of this page. 🙂
My Pricing Summary
Blurb Writing: $25
Writing Evaluation and Mentoring: $40
3-Page Sample Edit: Free
Manuscript Critique: $0.0015/word ($150 for a 100,000 word novel)
Proofreading: $0.0035/word ($350 for a 100,000 word novel)
Line Edit: $0.008/word ($800 for a 100,000 word novel)
Content Edit (Light): $0.003/word ($300 for a 100,000 word novel)
Full Edit: $0.01/word ($1,000 for a 100,000 word novel)
I am flexible on payment plans, so if you have any questions about cost, please contact me using the form at the bottom of this page.
More details on all these services are outlined below.
Editing and Mentoring Services
Except for the content edit and full edit (see those categories for explanation), I can work with most genres, fiction or non-fiction, with the exception of erotica.
Blurb Writing
Cost: $25
Along with your cover, a blurb is your book's first chance to make a good impression.  I love the art of crafting a strong back cover, so if you're struggling to describe your book in a compelling paragraph or two, let me take what you have and make it shiny!  The $25 covers consulting with me over email or Facebook message, a sample blurb written by me, and then 1-2 revisions of that blurb, based on your feedback.
Writing Evaluation and Mentoring for New or Teen Writers
Cost: $40
I have been writing stories since childhood, so I am passionate about helping aspiring authors (especially young authors) find their place and grow in their skills – because I've been there myself.  Once you begin getting serious about your craft, the writing world can become overwhelming. There are so many rules that feel important to remember, and trying to absorb all that information can take the joy out of your storytelling.
This mentoring service is for the new author who wants to improve their craft but isn't sure where to start – or maybe isn't even sure if their writing is any good!  I will read up t0 10,000 words of your work-in-progress (as well as an outline, if you have one), evaluate your skills, identify your strengths, and give you manageable pointers on how you can take your storytelling to the next level. I may also recommend resources for you to find author communities and do further research and study.
If you would like an entire manuscript critiqued rather than a sample, check out my manuscript critique services.
Three Page Sample Edit
Free
For anyone who's curious about my work, I offer a three-page sample edit so I can assess your writing and you can determine whether my editing style is a good fit for your needs. Sample edits have a turnaround time of 1-3 days.
Manuscript Critique
Cost: $0.0015/word ($150 for 100,000 words)
With this service I read through your entire manuscript and give you general feedback on your plot, characters, pacing, and prose. If you'd like extensive feedback on your book but aren't ready to invest in a full edit yet, this is a good starter service that will help you get an idea of areas you can strengthen in your writing. I may take about a month and a half to complete a manuscript critique and provide you with several pages of feedback.
Proofreading
Cost: $0.0035/word ($350 for 100,000 words)
With a proofread, I will rigorously check your manuscript for errors in spelling, grammar, basic paragraph formatting, and punctuation. I do not work with the actual content of your prose, beyond making sure everything reads clearly and correctly.  This is the edit you want if your manuscript is nearly ready to publish, especially if you are indie publishing. Turnaround time on a full novel is 1-2 months.
Line Edit
Cost: $0.008/word ($800 for 100,000 words)
With this edit, I will go through your story sentence-by-sentence to ensure that each word packs a punch and shows off your unique voice. I will eliminate redundancy and filler, clarify point-of-view, correct spelling and grammar errors, and make sure every paragraph flows. I also analyze your characterization and help you strengthen each individual scene.  (This includes proofreading as well.)  Turnaround time for a full novel is 2-3 months.
Content Edit (Light)
Cost: $0.003/word ($300 for 100,000 words)
With a content edit, I will read through your whole manuscript and evaluate your character arcs, plot, pacing, and the overall flow and impact of the storyline. The purpose is to determine whether your book as a whole accomplishes your intentions, and provide suggestions to ensure it satisfies readers.  Content editing does not involve correcting the prose itself or any small-scale issues (though I may note if I see recurring problems); rather I read through the manuscript and send you chapter-by-chapter feedback on what's working well and what needs changing.  Content edits should have a turnaround time of 1 month.
Note: my pricing for content edits is low at this time, because it's an area where I'm still gaining experience. I evaluate 20 pages of any manuscript before determining if the book is ready for a full content edit or if I would recommend my manuscript critique instead. I am primarily familiar with content editing speculative fiction.
Full Edit
Cost: $0.01/word ($1,000 for 100,000 words)
This edit provides both the content edit and the line edit (and proofread), for a discounted combo price. It is the best edit to invest in if you are preparing to publish your novel and you need both broad edits and all the nitty-gritty details fixed. This edit is done in phases:
1) I do an extensive content and broader line edit for you, a process which will take up to 2.5 months to complete.
2) I return the content edits to you, and you apply them in your own timing.
3) You return the content-edited manuscript to me again, and I proofread it and do a more detailed line edit to make everything as clean as possible. This phase will take 2-3 months to complete after you have returned the book to me.
Again, please be aware that while I am willing to consider most genres, I am primarily familiar with content editing speculative fiction and may not feel I am the best fit for your work if it is in other genres.
Contact
I would love to discuss with you whether I would be a good fit to edit your writing. Please contact me using the form below to find out more!