A common beef Christians have with dystopian stories is that they are hopeless.  It's common because it can be very true – dystopias are designed to display a reality where all feels lost, where people feel crushed and hopeless, and evil has all the power.  So it makes sense that books and movies in this genre will feel hopeless.  Usually, a dystopian novel will showcase hope and resilience by the end, but not every author intends to leave that kind of "mood" with their reader (more's the pity – I hate unhappy endings).
Of course – we Christians say – the answer is obvious.  "Put God in the book!"  Without God, of course there is no hope.
But we're not the authors, and we can't change the existing stories from what they are.  However, we can learn from them and we can pay attention to what makes them hopeless, as a reminder to us of Who give us true, abiding hope, and show Him to those around us.
The helpless Mockingjay and her helpless idols
I just finished watching Mockingjay: Part 1 in theaters.  Awesome movie!  I've never been disappointed at any of The Hunger Games films…they are all brilliantly executed and thrilling.
However, as I was watching I finally put my finger on why Katniss bothers me as a character.
She displays the exact opposite of the message I am trying to express with my own trilogy.  My characters, especially Kevin, wrestle with the reality that sometimes defending a great cause is more important than defending loved ones.  His trust in himself and his ability to protect his sister have to erode, leaving him with God as his only recourse, a far greater strength.  Until he can "let Catherine go" and turn her over to God with his trust and hope, he is fractured in his fight against a brutal enemy.  It's a theme that has emerged slowly and gradually as I continue to hammer this story from a rough into a diamond.
Katniss, on the other hand, has always been obsessed with her loved ones.  In the first movie, we see an example of beautiful self-sacrifice as she gives herself up to save her sister – so she starts well.  But as the series winds on she grows increasingly paranoid and reckless to protect people, more so in Mockingjay than in the other two.  The thought of a loved one in danger sends her into screaming fits, and she irrationally clings to beloved individuals over important causes.  I imagine if one of them was in danger on one side, and a thousand people dying on the other, she'd go to the aid of the one family member, leaving the thousand to perish even if she had the ability to save them.  One can easily argue that she has PTSD and mental health issues as a result of the trauma she endures, and that's a fair assessment, but I think her trauma only exacerbates her pre-existing obsessions.
For all her self-sacrifice and the hero she is portrayed to be, Katniss is actually very self-centered.  Family and boyfriend(s) are her idols which she protects at all costs.  We get the impression that if all of them were to die, she would totally crumble because she had no reason left to live.
Because she really doesn't have anything left to live for!
There is nothing left after your idols, if you have no hope in God.  Furthermore, with no sovereign Lord to trust, ultimately you have nothing but yourself to protect your loved ones.  It is painfully obvious to the audience, as well as Katniss, that ultimately she can't protect them.  She is one human being, powerless against forces all around her that are using her as a pawn for their agendas.
As a story, it's brilliant.  But I can't help wondering over and over again as I watch it, "Why doesn't she just lay down and die?"
At one point President Coin comes to speak to her, and remarks that "whatever's keeping you going, you still have it, and that's why you're still here" or something to that effect (pardon my paraphrasing, as I have only seen the movie once).
What is keeping Katniss going?  What does she have?
I don't see much of anything, except her family and friends, who she can't ultimately protect, and who could easily die.  No wonder she has no hope.
I'm not as strong as Katniss Everdeen.  I'm sure, if I was in her place, I would be tempted many times to just give up and die.  I don't have her fiery rebelliousness, or her defiant streak.  I could play the part, but when things got harder I'd just want to give myself up.
But I know I wouldn't.  Because my strength is not in me – it is in the Lord.  And in Him, we don't have to obsess over our loved ones!  We can know they are in God's hands, pray for them, and have confidence that no matter what happens, one day we will see them again beyond the grave, rejoicing before the Lord in perfect glory and peace.
So that's why Katniss Everdeen has no hope.  Not only does she have no greater God to look to, but all her existence is wrapped up in the people she loves.  And fragile, helpless human beings make for lousy gods and goddesses that are easily toppled.
Our world is a dystopia too
Did you ever think of what it must have been like for Christ to step out of the glory of heaven, totally empty Himself, and become a frail human baby?
A birth in a stable, a filthy manger for a bed.  Parents of relative poverty.  A nation crunched under the sandaled foot of Rome.  A power-hungry ruler who orders all baby boys murdered in his quest to destroy you.  It's a bleak picture, not exactly the soft, sweet "Silent Night" we sing of in Christmas Eve services.
Yet Christ gave His life here for this world, over and over again in selfless service, and ultimately on the cross, pouring out His blood for the redemption of many.  Like Katniss, He volunteered, but not as tribute – rather as an atonement for our sin.
And because of Him,
"Now who is there to harm you if you are zealous for what is good? But even if you should suffer for righteousness' sake, you will be blessed. Have no fear of them, nor be troubled, but in your hearts honor Christ the Lord as holy, always being prepared to make a defense to anyone who asks you for a reason for the hope that is in you…" – 1 Peter 3:13-15b
We have that hope within us, that one day this world will be made new.  We hear news of riots, and murders, and government corruptions, and racism, and wars, and natural disasters, but we have an eternal and powerful Hope that will never fail us, never let us down, and never leave us behind.
"But we do not want you to be uninformed, brothers, about those who are asleep, that you may not grieve as others do who have no hope. For since we believe that Jesus died and rose again, even so, through Jesus, God will bring with him those who have fallen asleep. For this we declare to you by a word from the Lord, that we who are alive, who are left until the coming of the Lord, will not precede those who have fallen asleep.  For the Lord himself will descend from heaven with a cry of command, with the voice of an archangel, and with the sound of the trumpet of God. And the dead in Christ will rise first.  Then we who are alive, who are left, will be caught up together with them in the clouds to meet the Lord in the air, and so we will always be with the Lord. Therefore encourage one another with these words." – 1 Thessalonians 4:13-18
We can't give Katniss hope.  But we can rejoice, especially in this Christmas season, that we have it in full abundance.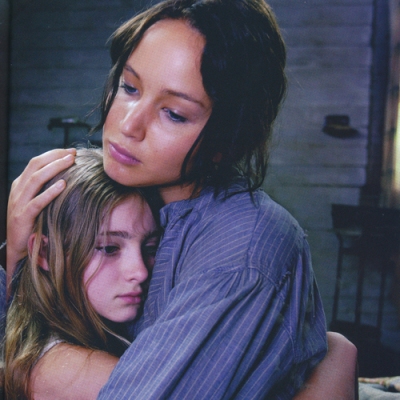 This is my Father's world;
Oh, let me ne'er forget
That though the wrong seems oft so strong,
God is the ruler yet.
This is my Father's world!
The battle is not done;
Jesus who died shall be satisfied,
And earth and heav'n be won.
— Martin Luther