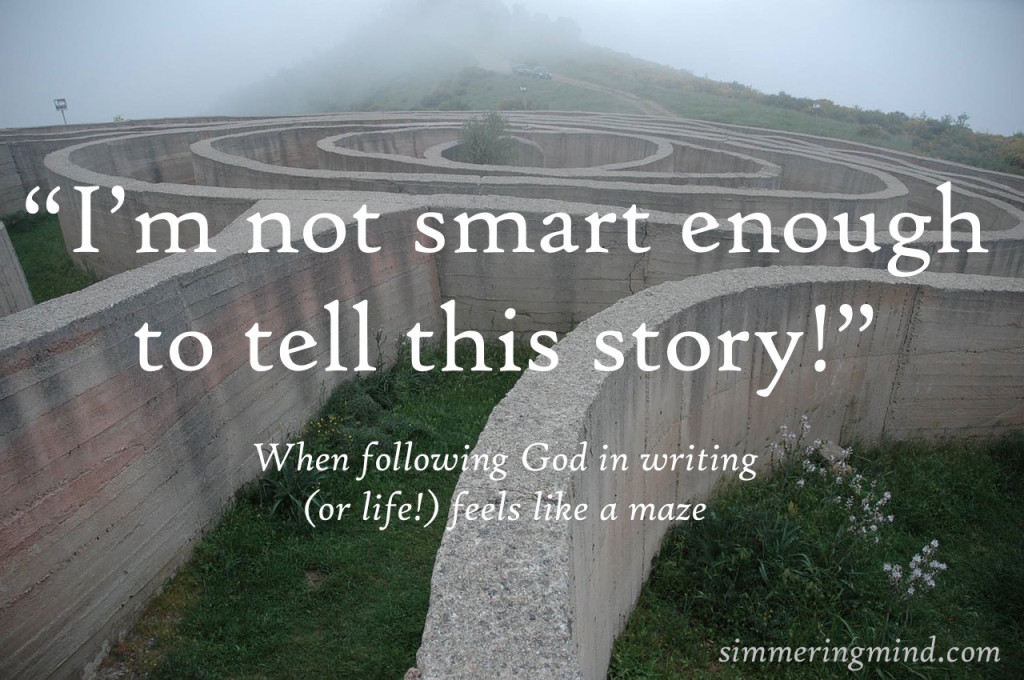 I came across a quote the other day by author Shannon Hale.  She begins:
I am (as usual) attempting to write a book that's too hard for me. I'm telling a story I'm not smart enough to tell. The risk of failure is huge.
I was stunned at how well that described where I am in my book's revisions.
It feels like too much.  It's overwhelming.  When I brainstorm for it, I have to battle off feelings of hopelessness.
This will never be good.  I'm not smart enough to pull this off.  I can't do this amount of work.  I'll never organize all these plot threads.  It will never be done.
So the other half of Shannon Hale's quote surprised and delighted me:
But I prefer it this way. I'm forced to learn, forced to smarten myself up, forced to wrestle. And if it works, then I'll have written something that is better than I am.
How true that is!  We can rise to meet a challenge, and do things we never imagined we could.
But in my case I prefer to think of it more as trust.
Perseverence even when you can't see the big picture
God keeps faithfully providing me with the inspiration I need…but it comes in small bits, one more piece to the puzzle at a time.
It's a little bit like being in a maze, with walls on either side higher than my head, and only directions enough for the next few turns – where I might or might not find another set of directions waiting for me.
Usually my stress comes when I realize that the big picture isn't clear, that all I can see are a few details…and those details make sense and fit together beautifully…
But what about the rest I don't know??
Then I start to panic.
I have to sit back and remind myself that God has been providing thus far, and He will continue to provide, according to His will.  I'm incapable of doing great things without His help to begin with, so I simply need to trust that He knows what He's doing, and pray for continued guidance, relying on Him with every step.
It's not unlike life in general.  Sometimes God only provides us a little wisdom at a time.  Sometimes He only provides a little time, or a little money, or a little of any resources we need.  Trying to look at the big picture is often scary.  But that's not our business – that's God's.
If we always knew where we were going, what occasion would we have to trust?
We have to hold to His hand and take our shaky steps in the direction He leads, even if we don't know where He is going to take us, and only have breadcrumbs to follow.
One step at a time.
One word at a time.
One brainstorming epiphany at a time. 😀
He knows what I need.  So He must know that what I have right now is perfect for my true needs – and when I need more, He will provide for that too.
I'm not smart enough to tell this story, on my own.  But with His help, I can accomplish it.  And if I am looking fully to Him and relying on His help rather than my own wisdom and efforts, perhaps He can indeed use me to write a story that is better than I am.
*
Is there anything in your life that feels "too hard" right now?  Do you feel like you're in a maze with incomplete directions?  How has God been showing you His trustworthiness in your life lately?