Looking beyond classics like The Lord of the Rings, or beyond bestsellers like The Hunger Games?  Looking for books with a Christian worldview or clean reads?  This list might help.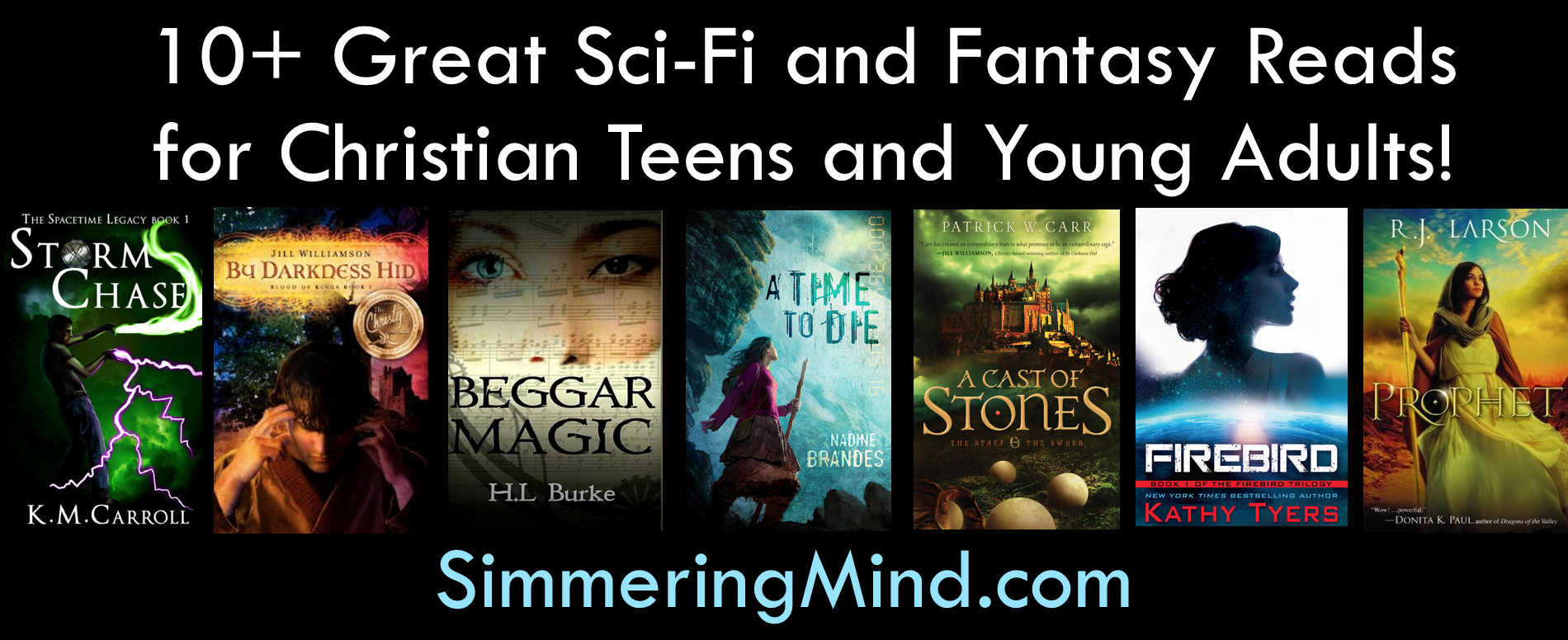 Maybe you're a young adult searching for some great new stories in the speculative genre – or maybe you're a parent trying to keep your voracious reader's hands full of good books!  Either way, I hope this list will be helpful to you in finding some new science-fiction and fantasy to enjoy.
First, here are TEN books (some of them only #1 in a series!) which are written by Christian authors – some with overt Christian content, some not.  Then, at the bottom, I am including three more which are not necessarily by Christians but are clean, enjoyable stories I have loved.  Because many of these books are part of series or trilogies, all of these books together add up to a whopping FORTY-TWO books! – plus two more I recommend in a tertiary manner.  (And there may be some upcoming installments I'm unaware of!)
Note to parents and readers: As always, if you are concerned about content, please check out all reading material for yourself.  I can promise you there are no sex scenes in these novels, and even a steamy kiss makes me uncomfortable as a reader, personally, so heavy romantic content is scant in this list.  However, my personal opinions are not a good judge of what you might deem appropriate for you or your own children as far as sexual and romantic content.  I also cannot guarantee anything about language content or violence, because violence doesn't phase me as a reader, and I tend to filter out bad words and forget they were even there.  (Granted, most of these books will have no offensive words at all, and none of the language will be any worse than you'll find in most TV shows; if the language was pervasively bad I would have a hard time enjoying the book and couldn't recommend it.)  So while I heartily recommend all these books – still, please read responsibly. 😉
So without further ado, in no particular order…!
10 Great Sci-Fi and Fantasy Reads for Christian Teens and Young Adults
1. The Blood of Kings Trilogy by Jill Williamson
I loved this trilogy.  A unique fantasy world, compelling protagonists, secrets, danger, and strong Christian underpinnings make it one of my favorite fantasy trilogies of all time.  Something to be aware of is that the first and second books leave you hanging!…and you will want to know what happens next! 😀
Given the chance to train as a squire, kitchen servant Achan Cham hopes to pull himself out of his pitiful life and become a Kingsguard Knight. When Achan's owner learns of his training, he forces Achan to spar with the Crown Prince–more of a death sentence than an honor. Meanwhile, strange voices in Achan's head cause him to fear he's going mad. While escorting the prince to a council presentation, their convoy is attacked. Achan is wounded and arrested, but escapes from prison–only to discover a secret about himself he never believed possible.
Click here to find By Darkness Hid and the rest of the trilogy on Amazon.
2. Till We Have Faces by C.S. Lewis
One of C.S. Lewis's lesser known works, and not his most popular.  Actually, most people either love this book or hate it.  I, for one, LOVED IT.  The gritty, evocative world Lewis takes us to swept me away when I read it for the first time, and the messages in the story leave you pondering for days – could be great for discussions.
Haunted by the myth of Cupid and Psyche throughout his life, C.S. Lewis wrote this, his last, extraordinary novel, to retell their story through the gaze of Psyche's sister, Orual. Disfigured and embittered, Orual loves her younger sister to a fault and suffers deeply when she is sent away to Cupid, the God of the Mountain. Psyche is forbidden to look upon the god's face, but is persuaded by her sister to do so; she is banished for her betrayal. Orual is left alone to grow in power but never in love, to wonder at the silence of the gods. Only at the end of her life, in visions of her lost beloved sister, will she hear an answer.
Click here to find Till We Have Faces on Amazon.  As a classic book, you can probably also find it in local bookstores, Christian bookstores, your local library, and maybe your church library as well.
3. A Time To Die (Out of Time, Book 1) by Nadine Brandes
Bringing readers into a fascinating dystopian world and then carrying them along for a riveting survival adventure, Nadine Brandes's goal all throughout is to challenge readers to examine how they spend their time and live their lives – and encourage them to use every moment to God's glory.  Two more books are coming from this series; I'm looking forward to seeing how the adventure continues!
How would you live if you knew the day you'd die?

Parvin Blackwater believes she has wasted her life. At only seventeen, she has one year left according to the Clock by her bedside. In a last-ditch effort to make a difference, she tries to rescue Radicals from the government's crooked justice system.

But when the authorities find out about her illegal activity, they cast her through the Wall — her people's death sentence. What she finds on the other side about the world, about eternity, and about herself changes Parvin forever and might just save her people. But her clock is running out.
Click here to buy A Time to Die on Amazon.
4. The Spacetime Legacy by K.M. Carroll
Note that since I wrote this blog post, Storm Chase has undergone a title change and is now published as The Strider of Chronos, though with the same cover.
The Spacetime series is awesome good fun!  It's urban fantasy (fantasy that takes place in the everyday modern world) and it's chock full of action, humor, fresh and fascinating worlds, and entertaining characters that leap off the page.  Definitely one of my favorites!  There are three books out already in this series: The Strider of Chronos (previously published under the title Storm Chase, as seen on the right), Chronocrime, and Wraithblade – and two more to follow.
Carda Chase is the Strider of Chronos. But figuring out what that means may cost him his life.

Struggling through high school in Phoenix, Arizona was hard enough, but now Carda's hands are burning with magical fire and lightning. Worse, they affect time and space. Now all kinds of people want Carda dead, from a killer angel to the head of the extra-world Council.

Fortunately he has allies—his twin sister Michelle manipulates gravity with dance. His rival Indal is secretly a time mage—until Carda accidentally turns him into a werewolf. There's Ben, a black time-traveling lizard. And Xironi, a gorgeous catgirl with a growing crush on Carda.

Together they face the most horrifying enemy of all—an inept mage with far too much power. This power unleashes a chaotic subspace storm that consumes worlds—and Earth is next on the menu.
Click here to buy Storm Chase and the other Spacetime Legacy books on Amazon.
5. A Cast of Stones (The Staff and the Sword) by Patrick W. Carr
This highly-acclaimed fantasy novel was unexpected and unique to me…it seems like classic fantasy, but Errol – the protagonist – is not your typical fantasy hero.  I really enjoyed this story for its freshness, the intrigue and politics of the world, and the fascinating details.  There are two other books in the Staff and the Sword set, but so far I have only read A Cast of Stones.
In the backwater village of Callowford, roustabout Errol Stone is enlisted by a church messenger arriving with urgent missives for the hermit priest in the hills. Eager for coin, Errol agrees to what he thinks will be an easy task, but soon finds himself hunted by deadly assassins. Forced to flee with the priest and a small band of travelers, Errol soon learns he's joined a quest that could change the fate of his kingdom.

Protected for millennia by the heirs of the first king, the kingdom's dynasty nears its end and the selection of the new king begins–but in secret and shadow. As danger mounts, Errol must leave behind the stains and griefs of the past, learn to fight, and discover who is hunting him and his companions and how far they will go to stop the reading of the stones.
Click here to buy A Cast of Stones on Amazon.  It's from a major Christian publishing house, so you may also be able to find it in bookstores or Christian bookstores near you.
6. C.S. Lewis's Space Trilogy
This is another classic, perhaps, but also not as well known as Lewis's Chronicles of Narnia – and definitely geared toward older readers, not young children.  The prose can be dense, but the stories are beautiful, intricate, and most of all glorifying to God.  Great for reading aloud!  My husband and I read this aloud together during our first year of marriage.  Each book is a little different from all the others in tone and setting, so I'll include blurbs for all three.
Out of the Silent Planet
Dr. Ransom, a Cambridge academic, is abducted and taken on a spaceship to the red planet of Malacandra, which he knows as Mars. His captors are plotting to plunder the planet's treasures and offer Ransom as a sacrifice to the creatures who live there.

Perelandra
Having escaped from Mars, Dr. Ransom is called to the paradise planet of Perelandra, or Venus. When his old enemy also arrives and is taken over by the forces of evil, Ransom finds himself in a desperate struggle to save the innocence of this Eden-like world.

That Hideous Strength
Investigating the truth about her prophetic dreams, Jane Studdock encounters the fabled Dr. Ransom, who is in great pain after his travels. A sinister society run by his old adversaries intends to harness the ancient powers of a resurrected Merlin in their ambition to subjugate the people of Earth.
Click here to buy the Space Trilogy as a single volume.  This is another you are likely to find in bookstores and libraries, whether Christian or otherwise.
7. Heartless (Tales of Goldstone Wood) by Anne Elisabeth Stengl
This story reads like a fairy tale, with rich allegorical messages.  Those who appreciate Christian allegory will especially like this book, but even I "cordially dislike" allegory (to use Tolkien's phrasing) and I still enjoyed it!  The prose is beautiful, and the metaphors made me think in fresh ways about Christ and salvation, which I love.  There are SEVEN books in the Tales of Goldstone Wood series and more still to come!  Stengl is a prolific author.
Princess Una of Parumvir has come of age and will soon be married. She dreams of a handsome and charming prince, but when the first suitor arrives, she finds him stodgy and boring. Prince Aethelbald from the mysterious land of Farthestshore has traveled far to prove his love and also to bring hushed warnings of danger. A dragon is rumored to be approaching Parumvir. Una, smitten instead with a more dashing prince, refuses Aethelbald's offer and ignores his warnings. Soon the Dragon King himself is in Parumvir, and Una, in giving her heart away unwisely, finds herself in grave danger. Only those courageous enough to risk everything have a hope of fighting off this advancing evil.
Click here to buy Heartless on Amazon.
8. Beggar Magic by H.L. Burke
This is one of my newest favorites!  Beggar Magic is set in a fantasy world with a hint of steampunk, and I was instantly drawn in by the premise…a world with audible magic??  The characters are real and compelling, and the story contains a little romance and a little mystery, as well as a focus on friendship (always a favorite theme of mine). Highly recommended!
In Gelia City, magic is music: a constant ever-changing melody known as the Strains. Hereditary ability to use the Strains divides the city into two classes: the wealthy Highmost, who can access the full potential of the Strains, and the Common tradesmen, who are limited to mundane spells, known as beggar magic.

With the help of the Strains, Common teen Leilani rescues and befriends a gifted Highmost girl, Zebedy. The girls' friendship opens Leilani's eyes to the world of the Highmost. She's intrigued by Zeb's close relationship with the Strains, and longs to know them as she does. Zeb, in turn, comes to depend on Leilani's strength and intelligence, making them an inseparable team, ready to take on anything with the Strains at their back.

As their unlikely friendship strengthens and endures, Zeb draws Leilani further into the Highmosts' intrigues. Beneath the polished, academic facade of the Highmost manors lurks a threat to the Strains. An unknown force consumes their music, leaving only heart-rending silence behind.

Leilani and Zeb will do anything to save their beloved Strains, but as the silence grows, they face danger their previously sheltered lives could never prepare them for. Whoever is behind the death of the Strains is willing to kill to keep their secret safe. To preserve the Strains, the girls may have to sacrifice their friendship, or even their lives.
Click here to buy Beggar Magic on Amazon.
9. Prophet (Books of the Infinite) by RJ Larson
I admit it!  I haven't actually finished reading this one yet.  But Prophet – first in the Books of the Infinite trilogy, followed by Judge and King – drew me right in.  Often Christian fantasy novelists try to marry Christianity with their fantasy worlds, but never have I seen it done so well as in Prophet.  This book opened my mind to understand our dependence on God even better than I did before.
Ela Roeh of Parne doesn't understand why her beloved Creator, the Infinite, wants her to become His prophet. She's undignified and bad-tempered, and at age seventeen she's much too young. In addition, no prophet of Parne has ever been a girl. Worst of all, as Parne's elders often warn, if she agrees to become the Infinite's prophet, Ela knows she will die young.

Yet she can't imagine living without Him. Determined to hear the Infinite's voice, Ela accepts the sacred vinewood branch and is sent to bring the Infinite's word to a nation torn apart by war. There she meets a young ambassador determined to bring his own justice for his oppressed people. As they form an unlikely partnership, Ela battles how to balance the leading of her heart with the leading of the Infinite.
Click here to buy Prophet on Amazon.
10.  Firebird by Kathy Tyers (first in a series)
Of all the books on this list, Firebird definitely skews more toward the adult end of the spectrum (and may actually be marketed to adults), but I have to include it here because the Firebird books are some of my favorites of all time.  Essentially, it's a romance wrapped in an exciting, action-filled, political-intrigue-laced space opera.  (There is no sexual content beyond chaste kissing, but I personally found the telepathic element a bit sensual in tone and those prone to romantic fantasies may want to tread lightly.)  Firebird is followed by Fusion Fire and Crown of Fire, and there are two sequels to the trilogy: Wind and Shadow, and the final book, the messianic Daystar.  All five are excellent and quite intense to read.
Lady Firebird was born to the royal family of Netaia. Because of her birthplace in the family, however, her life is expendable. Honorable suicide is the highest calling she could hope to attain. When she is chosen to lead an attack on the neighboring planet of Veroh her death is expected. Instead she is taken prisoner during the battle and is held by the enemy. With her own people seeking her sacrifice, Firebird must choose between two worlds before she can carve out her new destiny.
Click here to purchase Firebird from Amazon.  P.S. Be aware there are several editions for this book.  Firebird was originally published in the secular market, and Kathy Tyers later revised it.  I have not read the secular edition, but I hear it is pretty different at parts and lacks the religious aspect.  I would absolutely recommend the Christian revision, put out by Enclave Publishing!  I can't speak for the older one.  (My link goes to the newest edition.)
Bonus!  Three More Great Books and Series for Teen/YA Readers
1.  Fairest by Gail Carson Levine
I always love Gail Carson Levine's unique fairy tale worlds.  She hooked me for the first time with Ella Enchanted, and since then I have also loved her story The Two Princesses of Bamarre and this book, Fairest.  As the title implies, it's a creative retelling of Snow White – but very unlike the original!  NOTE: Ella Enchanted and The Two Princesses of Bamarre will probably also appeal to teen readers, but I chose to highlight Fairest because of all three, it feels to me the most YA-oriented.
Once upon a time, there was a girl who wanted to be pretty . . .

Aza's singing is the fairest in all the land, and the most unusual. She can "throw" her voice so it seems to come from anywhere. But singing is only one of the two qualities prized in the Kingdom of Ayortha. Aza doesn't possess the other: beauty. Not even close. She's hidden in the shadows in her parents' inn, but when she becomes lady-in-waiting to the new queen, she has to step into the light—especially when the queen demands a dangerous favor. A magic mirror, a charming prince, a jealous queen, palace intrigue, and an injured king twine into a maze that Aza must penetrate to save herself and her beloved kingdom.
Click here to buy Fairest on Amazon.  You might also find it in your local bookstore and library.
2. The Giver Quartet by Lois Lowry
Soooo, caveat – I did not personally enjoy all these books equally (and haven't read Book #4 yet).  But I find I am in the minority on that!  Most people have a favorite, and my absolute favorite was the second installment, Gathering Blue, which took place in a mysterious and interesting fantasy-like world very different from the other three.  Overall, the series is a dystopian set.  These are classic teen books and definitely worth reading!  Here are the blurbs for the most famous one, The Giver, and – because I can't resist – my favorite, Gathering Blue. 😀
The Giver
Jonas's world is perfect. Everything is under control. There is no war or fear or pain. There are no choices. Every person is assigned a role in the Community.  When Jonas turns twelve he is singled out to receive special training from The Giver. The Giver alone holds the memories of the true pain and pleasure of life. Now it's time for Jonas to receive the truth. There is no turning back.

Gathering Blue
Kira, an orphan with a twisted leg, lives in a world where the weak are cast aside. She fears for her future until she is spared by the all-powerful Council of Guardians. Kira is a gifted weaver and is given a task that no other community member can carry out. While her talent keeps her alive and brings certain privileges, Kira soon realizes that she is surrounded by many mysteries and secrets. No one must know of her plans to uncover the truth about her world—and to find out what exists beyond it.
Click here to buy the Giver Quartet on Amazon.  You will also find it in your library and local bookstores.
3. The Host by Stephanie Meyer
"Stephanie Meyer?  You mean the author of Twilight?"  Yep.  That Stephanie Meyer.  Twilight is beloved by gaggles of teen girls and torn apart by critics (and I haven't read it, so I can't speak about it, really) but somehow her neat science-fiction novel, The Host, managed to fly under the radar!  (Until it was made into a cheesy film recently, that is.)  The premise is fascinating and while I didn't care for the weird love triangle, this is a fascinating sci-fi story that will keep readers up all night eager to know how it ends.
Melanie Stryder refuses to fade away. The earth has been invaded by a species that take over the minds of human hosts while leaving their bodies intact. Wanderer, the invading "soul" who has been given Melanie's body, didn't expect to find its former tenant refusing to relinquish possession of her mind.

As Melanie fills Wanderer's thoughts with visions of Jared, a human who still lives in hiding, Wanderer begins to yearn for a man she's never met. Reluctant allies, Wanderer and Melanie set off to search for the man they both love.
Click here to buy The Host on Amazon.  You will also find it in your local bookstore and library.
*
I'm always looking for more great sci-fi and fantasy reads for young adults and teens!  It's the genre I write, and predominately the genre I read as well.  What's your favorite?  Do you have any recommendations for me?