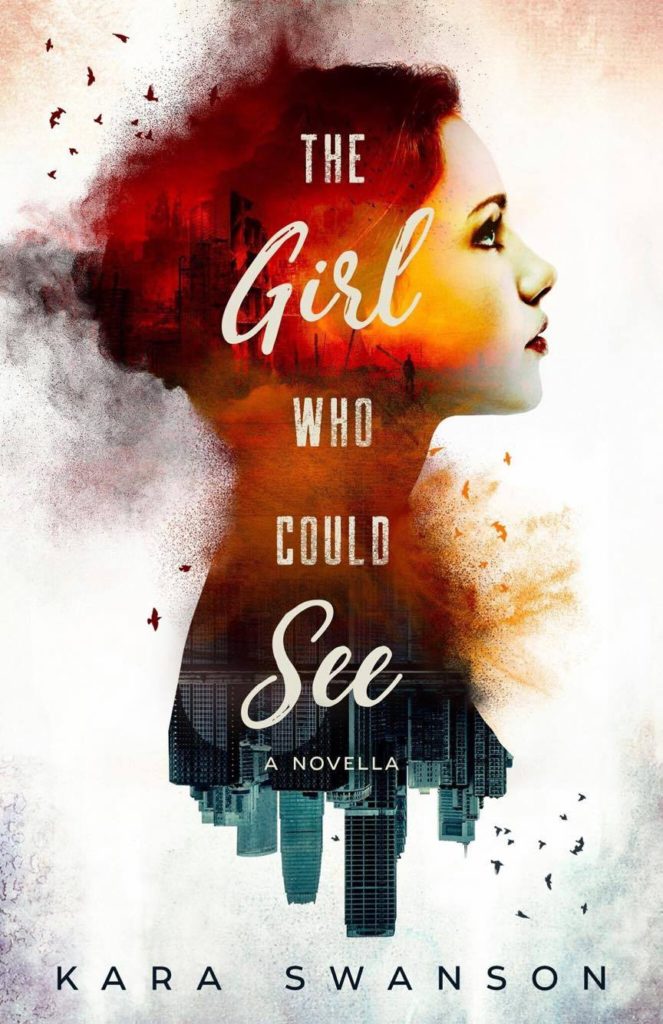 Do you see this gorgeousness?
Would you believe me if I told you the inside of this book is even more gorgeous than the outside? 😉
A few months ago I became online friends with Kara Swanson, a sweet and inspiring young woman who grew up as a child of missionaries in Papua New Guinea. She asked if I was interested in beta reading her novella, The Girl Who Could See. At the time, being pretty busy, I was going to decline by default (I almost never beta read these days), but then she sent me the premise…
All her life Fern has been told she is blind to reality—but, what if she is the only one who can truly see?

Fern Johnson is crazy. At least, that's what the doctors have claimed since her childhood. Now nineteen, and one step away from a psych ward, Fern struggles to survive in bustling Los Angeles. Desperate to appear normal, she represses the young man flickering at the edge of her awareness—a blond warrior only she can see.

Tristan was Fern's childhood imaginary hero, saving her from monsters under her bed and outside her walls. As she grew up and his secret world continued to bleed into hers, however, it only caused catastrophe. But, when the city is rocked by the unexplainable, Fern is forced to consider the possibility that this young man is not a hallucination after all—and that the creature who decimated his world may be coming for hers.
….Yeah, there's no way I was gonna say no to that. 😉
And the story did not disappoint! I read it basically in one sitting – I couldn't put it down! So intense, heart-rending, and inspiring. It has earned a place among my favorite books. 🙂
Interview with Kara Swanson
Today I am excited to share an interview with Kara as part of the blog tour celebrating the release of The Girl Who Could See!
So glad to have you on the blog, Kara! In what ways do you relate to your main character, Fern – and to Tristan, her so-called imaginary friend?
Great question!
Haha I relate to Fern in a lot of ways. We both can't drive because of debilitating health issues. For her, she has "psychosis." I'm fighting Lyme Disease (a sickness you get from a tick bite. Among many other symptoms, I have a lot of memory/processing issues. So driving is very hard). We're both fiercely determined – grab onto something and won't let go. We both are a bit sarcastic. We both have younger people in our charge that we'd die for (my siblings–especially my 10 year old sister, Kylie. For Fern, her niece Elinore). We both see the world in a different way, and live trapped between two worlds. (Though for me, it's because I grew up outside the U.S., not seeing a parallel world. 😛 )
Tristan – I get what it's like to be alone. To sometimes feel invisible. We both have a very outgoing personality/snarky wit. And I like to think, given the chance, I'd have his courage. <3 
I'd love to hear more about your life as a missionary kid. What are some ways growing up in Papua New Guinea influences your writing and the themes you like to write about?
Oh, there's so many ways my childhood overseas impacted my writing. A few of the big ones, though…I had a very vivid imagination. We didn't have internet or cable TV. No roads or stores. So I would keep myself entertained with make-believe friends and adventures. Climbing trees, hiking to unique jungle vistas, shooting with a bow and arrow, raising exotic pets, etc. And reading – I read a lot! Anything I could get my hands on. Fantasy was my favorite – especially Narnia. I could relate with kids dropped into a unique world. I loved the whimsical elements.
So, after a while of telling myself and my siblings and some of our friends stories about unique words and exotic creatures, I started writing them down. It just sort of took off from there! 🙂
Can you tell us a little about your next project? Where are you going from here?
I have about six novels in the works. Some of in really good shape, some are in the rewriting stage, others are just starting to be put on paper. I can get a solid draft done in a few months, though, so they'll all meet the world here soon!
Now that TGWCS is officially into the world, I'm working on a novel called Skyridge. First book in a trilogy about a girl whose father is a fallen angel. She's kind of an antihero, born with a dark heritage and destiny to destroy the world – but not sure if that's truly what she wants. It's her journey to trading freedom in the darkness for bondage in the light. Of changing sides in this war she was born into and escaping to the very beings she's been taught to hate: the angels.
What's one of the things you hope readers will take away from reading The Girl Who Could See?
To have a blind faith that sees beyond the now. The circumstances that weigh us down. The darkness that may threaten to drown us. A faith that trusts in something so much bigger – so much more – than what we can see around us. To find hope in the most dismal place, and to fight for a love that won't let go. To embrace the impossible. 🙂
Thank you so much Bethany for having me on your blog! I so enjoyed this little interview <3 
Thank you so much for being here, Kara!! 😀
Blog Tour Scavenger Hunt Clue
Kara is giving away 5 signed paperbacks of the book to those who find all the clues from the blog tour! Here is the clue for my post:
Check out these other stops on the blog tour to collect all the clues! Next stop HERE!

Connect with Kara
As the daughter of missionaries, Kara Swanson spent sixteen years of her young life in the jungles of Papua New Guinea. Able to relate with characters dropped suddenly into a unique new world, she quickly fell in love with the speculative genre. At seventeen, she released a fantasy novel, Pearl of Merlydia. Her short story is included in Kathy Ide's 21 Days of Joy: Stories that Celebrate Mom. She has published many articles, including one in the Encounter magazine, and she received the Mount Hermon Most Promising Teen Writer award in 2015.
Buy the Girl Who Could See HERE on Amazon!
Find Kara online at karaswanson.com
Facebook: Kara Swanson, Author
Twitter: @kara_author
Instagram: @karaswanson_author