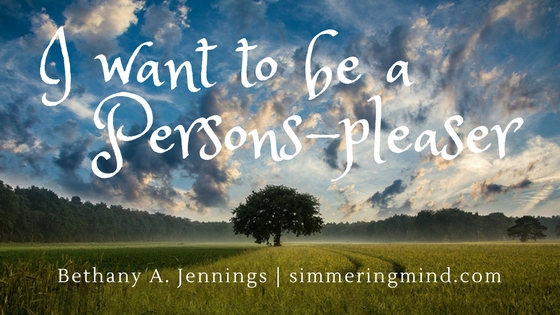 Something imperceptible shifted in me in the last couple of months.
The first time it felt like a fluke – I was having a good day, apparently, nothing special.
The second time it barely caught my notice – a passionate moment of boldness, probably too bold, but whatever.
The third time it took me by surprise, as I finally realized…
That girl was gone.
That girl who bears within herself the blame for every negative emotion. That girl who internalizes conflict until it cramps her stomach and leaves her no appetite. That girl who feels like she's been punched at a simple negative statement from a friend.
That girl who thinks it's all about her.
Who thinks, surely, everyone else's problems are her fault. Who thinks it's her responsibility to fix the anger of another heart. Who assumes, when her calmness is met with grumpiness, that her very presence is the impetus.
Who believes in her heart of hearts that if she brings anything other than peace and happiness to any situation, she is worthless, a negative influence that deserves to be cast aside.
That girl lived in my heart despite all my logic growling at her to leave.
I don't miss her one bit.
Because now I can see clearly – it isn't about me. It's almost never about me.  Every heart has so many tethers and roots and tendrils stretching in every direction…what arrogance to believe that every disturbance in another person comes from my tiny corner in their soul!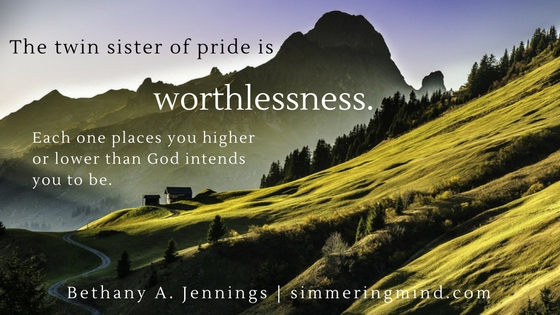 Pride's twin sister is worthlessness. Each one places you higher or lower than God intends you to be.
That girl I knew would spiral into grief and anxiety for hours if a friend seemed in the least bit unhappy with her – desperate to make it right, desperate to restore the balance.
And suddenly I…don't.  I listen. I exhort. I offer corrections. I offer prayer. Because it isn't about me – it's about them and helping them in their needs, because there are tethers and tendrils pulling on them that I don't even know about.
For so long I've hated being a people pleaser by nature.
And suddenly I find I'm not one.
Maybe it's God's direct intervention, the influence of friends, or the slow march of maturity. Maybe I've been riding a hormonal roller coaster, sent down the track by pregnancy and motherhood.  Maybe something broke in me long ago and it's finally fixing.
But whatever the cause, I'm done with it!
I want to be a Persons-pleaser…pleasing the Father, Son, and Holy Ghost.
As long as I am obeying the Father, emulating the Son, and listening to the Spirit's leading, the tumult of others' emotions cannot rule me.  I can trust Him to order and guide all my relationships, and if someone has a problem with me for petty reasons and rejects me? – that's only because He willed it, and He still loves me and is better than any earthly friend.
And for those times when it is about me, and I have hurt someone, He can give me the humility to apologize and make it right – without devolving into self-hatred and miserable anxiety.
My heart, soul, and mind are forgiven, loved, and claimed as precious by the Maker of all things.
I'm so thankful that my emotions finally got the memo! 😉
The Lord your God is in your midst,
    a mighty one who will save;
he will rejoice over you with gladness;
    he will quiet you by his love;
he will exult over you with loud singing.

– Zephaniah 3:17
Have you ever suffered from being a people-pleaser or social anxieties? When? What helped you overcome it? Are you dealing with that right now? Share your story in the comments. ❤️