Contrary to how it may sound, this posting is not about a Jane Austen book.
(Sorry.  😀  Doesn't it sound like that, though?  Wow, if that was a Jane Austen book, I'd want to read it – it sounds epic.  Okay, moving on in all seriousness…)
Lately I've been thinking about the way stories take me back to "The Story", as we say – the salvation plan of God, the eternal sacrifice of Christ.  Even if books and movies are not explicitly Christian stories or written by Christians, they may still have elements of "The Great Story" in them.
No Greater Love
We see hundreds, thousands, perhaps even millions of stories with characters who lay down their lives to save others, or in the very least prepare to do so if necessary.  "Greater love has no one than this, that someone lay down his life for his friends." – John 15:13 (ESV).  Even people who don't believe in Christ's atonement value this kind of sacrifice.
Within fiction, sometimes these situations can make us view the Cross in a new light, deepening our awe at God's mercy.  (Warning.  Although I feel like the last person in the world to read/watch the series, I feel I should mention there are Harry Potter spoilers in this section.)  Weird as this may sound, my favorite part of the entire Harry Potter series was when he died.  It was so well-expressed.  As a reader I was brim-full with shocked anticipation and the emotion he experienced as he walked to his own death, knowing he needed to perish if Voldemort was to be defeated.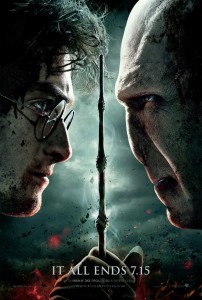 And when he was actually killed, oddly enough, I felt an immense sense of relief.  It was all over!  He had done it!  It occurred to me to wonder whether Christ had that same sense of relief as He uttered, "It is finished"?  Whether or not Harry's sacrifice is a Christ-picture is a topic for a whole other posting (honestly, I feel the comparison isn't as great as it may seem on the surface), but that powerful portrayal of sacrifice made me reflect on Christ's death for me with more gratitude and awe.  And Harry's death was only a story.  (End spoilers.)
Aside from the very obvious example of sacrifice, there are many elements of the story of salvation that are echoed in smaller ways in fiction.  Some stories have layers and layers of them.  None are perfect analogies, of course, but they are everywhere.
Being Captured
In my mid-teens I often babysat a young girl who liked to play with her collection of horses.  Of course, I had to play too.  It was the same story every time – there were two horse families, the good one and the evil one.  The evil family would capture one or many of the good horses, and the remaining good guys had to rescue the captives and bring them back home.  Like many children's games, the cycle could continue indefinitely.  Capture.  Rescue.  Celebrate.  Lather.  Rinse.  Repeat.  My eyes are hazing over just thinking about it…  And yet, it was the same kind of game I played with my sister as a child, the same kind of game we played with the neighborhood children, the same kind of Star Wars fanfiction I wrote as a kid.  The theme of "being captured" is even present in most of my stories to this day – but not in endless repetition, thankfully.
What is it about being a prisoner that has such drama for us?  From an early age we are moved by stories of damsels in distress.  My young cousin once declared emphatically that "heroes never get captured by the bad guy" – which amused us, because they so often do.  Many stories hit their deepest, direst point when the protagonist falls into the clutches of the enemy.
(I'm sure you've already guessed where I'm going to take this.)
I wonder if our fascination with being captured and escaping has some roots in the human condition?
"The Spirit of the Lord God is upon me,
because the LORD has anointed me
to bring good news to the poor;
he has sent me to bind up the brokenhearted,
to proclaim liberty to the captives,
and the opening of the prison to those who are bound…" – Isaiah 61:1

"He looked down from his holy height;
from heaven the LORD looked at the earth,
to hear the groans of the prisoners,
to set free those who were doomed to die,
that they may declare in Zion the name of the LORD,
and in Jerusalem His praise…" – Psalm 102:19-20
Before we come to Christ, we are like prisoners trapped in our sin, blind to our true state and deaf to God.
"So Jesus said to the Jews who had believed in Him, 'If you abide in My word, you are truly My disciples, and you will know the truth, and the truth will set you free.'  They answered Him, 'We are offspring of Abraham and have never been enslaved to anyone. How is it that you say, "You will become free"?' " – John 8:31-33
Like the Jews in that passage, perhaps most would say they had never been captives, never been enslaved.  But as those saved in Christ, we know that we once were – and now Christ has bought us our freedom.  I wonder if we all, as even children, sense that cage, and long for liberation?
Just something I've been pondering…
Your thoughts?  How about some other examples of themes in stories that echo God's story of salvation?