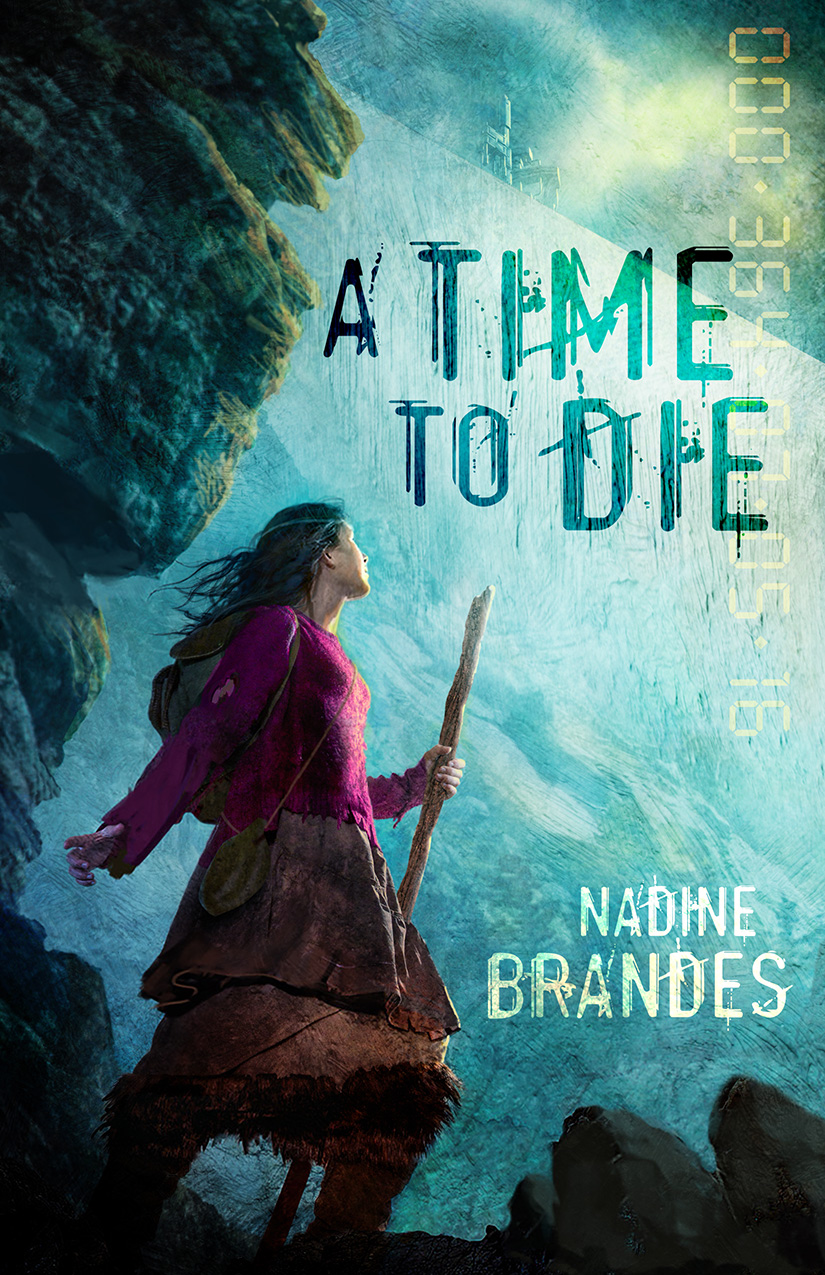 As soon as I heard about this book, I wanted it.
A Time to Die (first in a trilogy) is a dystopian book – like The Hunger Games, Divergent, or The Giver – but by a Christian author and woven through with themes of faith.
Nadine Brandes's desire is that A Time to Die will spur readers on to live life more intentionally, not wasting time but using every moment to God's glory.  Here's the blurb:
Parvin Blackwater believes she has wasted her life. At only seventeen, she has one year left according to the Clock by her bedside. In a last-ditch effort to make a difference, she tries to rescue Radicals from the government's crooked justice system.

But when the authorities find out about her illegal activity, they cast her through the Wall — her people's death sentence. What she finds on the other side about the world, about eternity, and about herself changes Parvin forever and might just save her people. But her Clock is running out.
The premise – a girl who knows the day she'll die – instantly gripped me.
I believe A Time to Die was still in editing stages between the author and publisher when I began following the author's blog.  Nadine and I became fans of each other's Facebook pages, and even Facebook friends.  When she put out a call for volunteers to join her launch team – a task which included reading an early copy of the book to review – I was all in!
So today I am participating in a blog hop to spread the word about this book.  Below I've shared a review of the book (somewhat edited from my Amazon review) and at the bottom you'll find more opportunities to learn about A Time to Die and the lovely authoress, Nadine Brandes – and a chance to enter to win a copy of the book!
Things I Love About A Time to Die
This book may start sort of slowly, but when it picks up it is a wild ride!  Rooted in God and woven throughout with Scripture and hope, it's also a plot-twisting adventure full of unique, lively characters. It's a powerful book both from a Christian standpoint and from a fiction standpoint. I firmly believe God will do amazing things with this story.
At first I felt a little distant from the main character, Parvin…but as the story continued I began to identify with her so deeply that as I visualized the story in my mind, I visualized myself as Parvin. I have never had that happen before. What she goes through in places is gut-wrenching, sometimes leaving me exhausted, feeling battered and hurt, and wondering why she didn't lay down and die, because I imagined that's what I would do in her place.
It is very clear that the Lord is the One who gives Parvin the strength to go on as she relies more and more on Him – a beautiful testament to the power of our Living God. Any time Parvin is brought to the end of herself, He gives her what she needs to survive, not in a pat or predictable way, but in the very real way He gives each of us what we need to accomplish His work, even when it is the hardest thing we have ever done in our lives.
Nadine Brandes is the master of surprise. Just when I'd start to think the story was slowing down, or that I knew what was going to happen next – bam! – Parvin was slammed with something completely unexpected. This was a roller-coaster to read. And the author is not afraid to make the worst happen, sometimes shockingly so. This is not a predictable story. It's fresh, startling, and vivid.  As a writer, I learned a lot from Nadine's fearless storytelling.
The world-building was good too, with several different cultures and places shown…all fresh and memorable. I am very eager to return to the word of A Time To Die again when the next book comes out, so I can learn more about the different people and societies Nadine Brandes introduced us to here. I loved the creative futuristic technology, too.
A Minor Critique
I don't believe every Christian book must contain the full gospel and I certainly don't think they should be "preachy", but when faith is as prominent a theme as in A Time to Die, I can't help but study what theology is being shown, and I noticed after finishing the book that sin was never mentioned, or at least not in a context where it had actual bearing on the theology of the story.
Parvin makes mistakes, does the wrong thing often, and is far from perfect – I really appreciated that about her as a character, as it made her very real.  But even when she makes very wrong or selfish decisions, she never questions her general rightness, never wonders about her need for grace.  If she believes she is a sinner, that is not shown.  The cross is mentioned, and the concept of shalom (peace with God and one another, the way things ought to be) is a major theme in the story, but the brokenness of the world is never attributed to sin or wickedness from what I recall.
I wish Parvin had wrestled a little more with her unworthy nature as a sinner, her tendency to do things wrong when not relying on God, her utter lostness without Him.  She relies on Him increasingly, and it's beautiful to see her growing faith, but a fuller understanding of the gospel would have made her faith more three-dimensional, in my opinion.  Perhaps future books will delve into this more, and maybe I need to read A Time to Die again to determine if I'm recalling this wrong.  Either way, it certainly didn't ruin the book for me, though it's something I would have liked to see developed further.
Summary and GIVEAWAY!
A Time to Die would be a great read for teens – or anyone, really, especially those who enjoy thrilling dystopian adventures.  One reviewer described it as, "The Hunger Games meets Pilgrim's Progress" – that's a pretty apt description. 😀
Click here for a chance to win the book in this Rafflecopter giveaway!
Please visit Nadine's website and Facebook page for more information about the author.  Also, check out these other blogs in the blog hop!  Some have reviews of A Time to Die, while others have interviews with Nadine Brandes, or the bloggers' answers to the question, "What would you do if you had one year left to live?", a question that I may answer on my blog too, in a future post. 🙂
Other bloggers participating in the blog hop:
9.03.14 – Nadine Brandes
9.08.14 – Ashlee Willis
9.11.14 – Caitlin Schesser
9.15.14 – Jennette Mbewe
9.17.14 – Heather Fitzgerald
9.19.14 – Kristen Stieffel
9.22.14 – Rebekah Gyger
9.25.14 – Lydia Thomas
9.26.14 – Ashley Olson
9.27.14 – Angel Roman
9.28.14 – Rosalie Valentine
9.29.14 – Aubrei Crooke-Adams
9.30.14 – Sarah Grimm
10.01.14 – Jon Del Arroz
10.02.14 – Amy Brandes
10.04.14 – Kathrese McKee
10.07.14 – Karen DeBlieck
10.09.14 – Bethany Jennings (yeah, I was supposed to post last week and forgot…oops!)
10.10.14 – Angie Brashear
10.13.14 – Adam Collings
10.15.14 – Bree Courtney
10.20.14 – Gretchen Engel
10.24.14 – JC Morrows
10.30.14 – Lisa Gedfries
How would YOU live if you knew the day you'd die?  What's one thing you would change about your life if you found out you would die in a year?