One recent evening, I curled up next to my husband in bed and cried.
I was overwhelmed with stress and sadness over a situation I couldn't help.  I couldn't change it, or magically make the problem or the pain go away.  It was just there, weighing down my heart with anxiety for loved ones who were hurting.
Like many husbands, my hubby sees his wife's tears as a plea for help – to do something, to somehow make it better.  But what did I expect him to do?  He had no more power over the circumstances than I did, he informed me.
"I don't want you to fix anything," I insisted.  "I'm just sad, and I'm telling you about it.  I'm just sharing life with you."
He might not have been able to fix the situation, but he had some wise words for me instead:
"You're basically helpless."
I let out an anxious laugh.  "Is that supposed to make me feel better?"
"Yes and no," he said.  "In most situations in life we at least feel like we have some semblance of control.  But this is one of those situations where we don't even have the illusion of control.  We're totally helpless.  We just need to lean on God, and trust in Him, and let him take us along for the ride."
I immediately felt better, though I couldn't peg why yet.  All I knew was that the sea of emotions felt calmer, contained in the palm of God's hand.
By the next morning, reflection had given me some answers.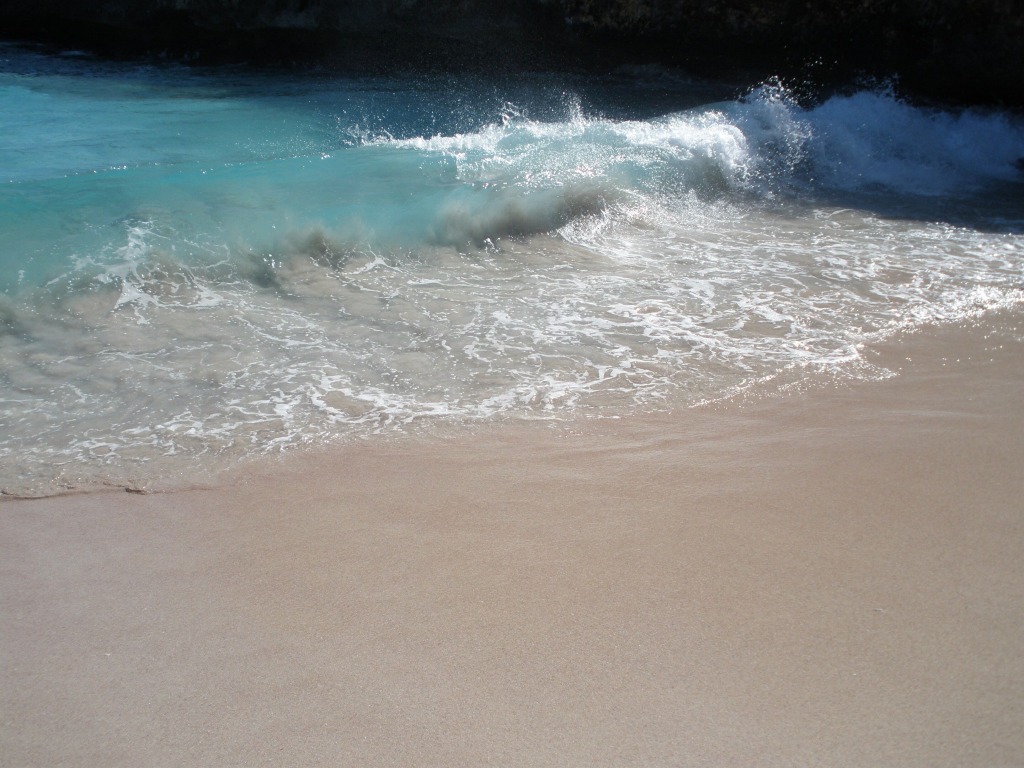 I don't think of myself as a controlling person.  But I never noticed before how much of my stress comes from the anxious desperation of feeling out of control, helpless against the sea of life.  I was like a child learning to float on my back in cold water – but I was thrashing and kicking and getting water up my nose.  It was as if my husband reminded me, gently, "Spread out your arms and legs like a starfish.  Stick your tummy up.  Just hold still, and you'll float."
And now I was floating.
It didn't change the fact that I was in the water, and it was cold, but there is a calm that comes when you're floating instead of fighting.
Most of us have some urge for control in our nature.  When we meet trouble, our instinct is to fix it, to feel responsible, to feel pressure to do something, anything that will make the unpleasant feelings go away.
But there are situations we can't help.  We can't fix it.  We can't even escape it.  Maybe it's having a sick child, or being jobless, or being single, or depressed, or losing a loved one and suffering grief that never seems to end.  In those kinds of situations, we can't take charge and control.  We're helpless.
Those are the times we have to lean into the pain, to face it with eyes wide open, and say, "I don't like this.  It hurts, and I don't want that.  But God, You are good.  And you are trustworthy.  You sent this trial into my life, so I'm going to accept the pain with open hands until you decide it's time to take it away again."
Be still and know that I am God.
"Be still, and know that I am God.
    I will be exalted among the nations,
    I will be exalted in the earth!"
The Lord of hosts is with us;
    the God of Jacob is our fortress. Selah.


Psalm 446:10-11
He is a sovereign God!  He does not have a Plan B.  All of life is His perfect Plan A, a beautifully organized symphony building up to a crescendo of love and glory.
Sometimes He doesn't mean for us to overcome the pain – He means for it to lead us to the Rock that is higher than we are, to teach us things about life we might otherwise never see through the blindness of comfort and complacency.
So if the waves of emotion are breaking on your head, stop thrashing.  Rest your limbs.
Be a starfish.
Be still.  Let the water carry you where it will.
They are His waves, just as much as we are His children, and they won't drown us if we turn our faces up to Him and float.
So I will call upon Your name
And keep my eyes above the waves
When oceans rise
My soul will rest in Your embrace
For I am Yours and You are mine
– Hillsong United