Bethany Jennings's Books
Severed Veil: Tales of Death and Dreams
A collection of dark, fierce short stories and poems that sever the shadows. Click here to buy now!
A dream-traveling boy haunted by a broken girl. A cursed warrior, weary of bloodshed. A princess who battles dragons in an enchanted slumber. A treacherous graveyard in the stars.

From Bethany A. Jennings—author of Threadbare and Dragon Lyric—come twelve mesmerizing short works of poetry and prose that boldly pierce the shadows. Severed Veil contains a selection of fantasy, sci-fi, and poetry, including "Dreamskip," the winner of an honorable mention from the Writers of the Future Contest in 2018.

Illustrated with ethereal pencil sketches by artist Julia Busko, these tales dance on the delicate rift between life and death, waking and dreams.
Threadbare: A Short Story
YA contemporary fantasy short story, published March 2017. Click to purchase on Amazon in paperback or ebook form!
What happens when your gift turns against you?

All her life Bess has known the magic streams around her, waves of power she can draw from to wield the gift of magical threads. Now the youngest member of a team of Anchors, she helps protect the city streets from Drifters—energy thieves who prey on the life force of ordinary humans.

But when a battle leaves Bess's threads in an irreparable tangle, she is faced with an agonizing choice: sever her threads and lose her magic forever—or be slowly consumed by her own power.
Dragon Lyric: A Short Story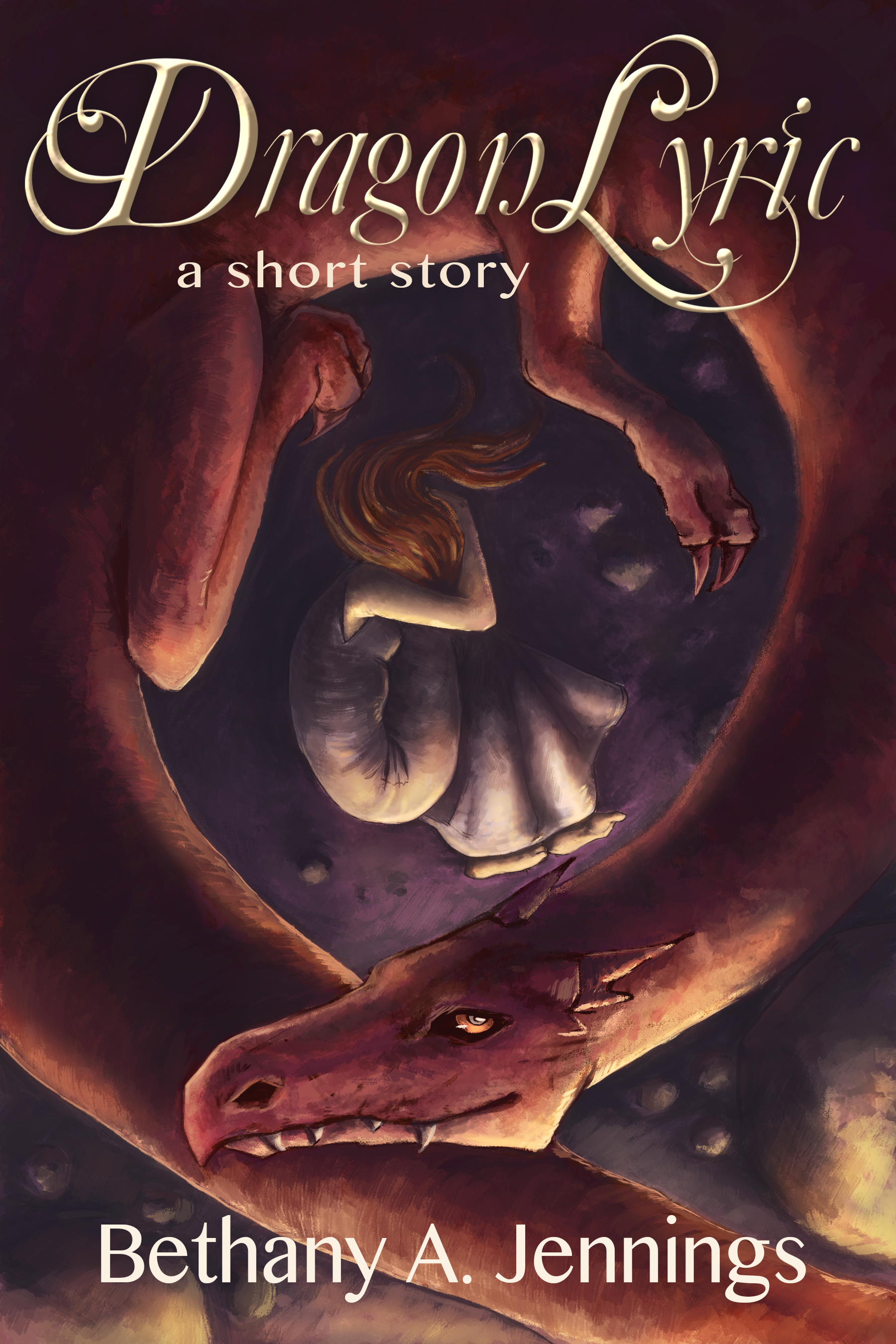 Fantasy short story, published July 2017. Click to purchase it on Amazon in paperback or ebook form!
Her husband is a dragon. And the dragon is hungry.

Drawn by his allure, Theryn left everything behind to live with Roth in his mountain cave. But then her fiery-eyed husband transformed into something else: a monster of scales, claws, and wings. The dragon has only one use for her—to bear his dragon egg, now forming in her womb. After the egg is laid, she will be nothing but fresh meat.

But Theryn refuses to suffer the same fate as Roth's former brides. For her own sake, and for the baby dragonshifter she carries, she must find a way to escape the monster, and break the enchantment of the dragon lyric.
Fall Like a Stone
Fantasy steampunk flash fiction story, published in the April 2015 issue of Havok Magazine. Buy a copy of the magazine on Amazon here.
Ness and Tilda are working undercover aboard a pirate dirigible to rescue the thieves' most precious booty. But when their cover is blown, and their magic runs out, they must find a way to outsmart the pirates…or else take a walk off the plank and into the ocean 5,000 feet below.
You can also read it HERE, with accompanying illustrations by artist Kerilynn Wilson.
Other Works
For free flash fiction you can read online, click here!
Works-In-Progress
The Trusted – Book One of the Kraesinia Trilogy: To find out what really happened to his missing parents, seventeen-year-old Kevin Leansmith becomes caught in a double life as a soldier in another universe – but the enemies that destroyed his mom and dad are coming for him and his younger sister next. (YA science-fantasy / portal fantasy.)
Absconder Series #1: Raised by a totalitarian state, a rebellious teen deserts the military and is taken in by a fugitive religious group – but she's about to make their space caravan a moving target. (YA futuristic space opera.)
Disillusioning: After accidentally using the magical power she's been concealing all her life, a girl is deemed dangerous by the government and shipped off to a rehabilitative summer camp for kids with superpowers. (YA superhero/contemporary fantasy – part of a loosely connected series that spans several generations of supers, reaching into both the past and the near-future.)
Until She Dies: When her prince sacrifices himelf to give her a second life, a young warrior determines to destroy the one who killed him – the usurper queen, the other half of her own soul. (Dark fantasy novella.)
One comment